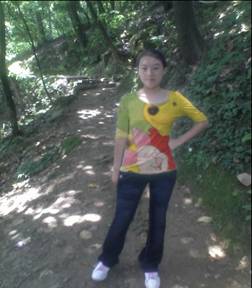 My daughter Li Qian

I'm Li Zhongchao, 55 years old, born in Damian Town, Longquanyi District, Chengdu City, Sichuan Province. I am a village doctor with an education level of junior middle school.

As soon as I think of my deceased daughter nowadays I will fall in agony. Her farewell letter before suicide made me terribly regretful up to now. "Dad, Mum, why don't you wake up yet? I beg you not to practice cultivation any more. Our family and my college dream have been ruined by Falun Gong and you. I hope you can really break loose from the devil of Falun Gong one day, and then I will die without any regret…"

All that should be talked about from the very beginning. At that time I had my own small clinic, a cute and gentle daughter and an honest and decent wife. Besides seeing the patients in ordinary time, we farmed several mu (a mu is a Chinese acre, or 666.7 square meters) of fruits, so we had a comfortable income every year and led a rich life locally. All three of us were emerged in harmony and joy and were admired by others.

Because my skill was handed down from my ancestors, I was only a village doctor. To make the family property going on I swore I would train my daughter to enter the medical university and to be a genuine doctor, which was also the biggest desire of our whole family. Therefore, my focus was my daughter's study and life.

In July 1998, my daughter ranked in the top two of her middle school and entered the local best high school. Our families were drowned in joy and prospect.

It was also in the second half of that year, at that time I began to practice Falun Gong being introduced by others and gradually became obsessed in it. All the things have been changed thoroughly since then.

At the very beginning I went to practice and exercise with curiosity, but gradually I became obsessed in Falun Gong. When I was practicing, I felt my level was rising as if I entered another world. I became increasingly scornful at the common people around me, willing to discuss with my cultivators only. To amass more merits and virtues and rise to higher levels quickly, I promoted it to everyone who came to my clinic. My wife that was honest by nature also devoted herself to cultivation with my agitation.

The economic condition of our family got worse and worse, so that the money to our daughter was less and less. Besides, we didn't take good care of our daughter or inquire about her health as we did before cultivation. In fact, we almost ignored her. Perhaps feeling the sharp change our daughter's attitude to our cultivation changed from curiosity initially to firm opposition at last. She often called us, saying, "Since you practice Falun Gong our family is no longer a family." Later, she simply said nothing and rarely contacted with us after a lot of admonishment was void.

In July 1999, the country banned Falun Gong according to the law. Our daughter phoned pleasantly to inform my wife and me. She had thought we would have not practiced since that day. However, my wife and I refused to mend our way and continued practicing at our home secretly. Every time our daughter came back from school she was very disappointed on seeing the shabby house and our mysterious and crazy behaviors.

On noon of June 2006, when I was meditating at home whole-heartedly in the sweltering heat, a postman from the town sent me a letter, which was a long one from my daughter and was the first letter she wrote to me in her life. In the letter, our daughter earnestly advised us not to practice any more with lamented suppliance.

But at that time I was so obsessed in Falun Gong that I turned a blind eye to the letter. I tore it into pieces after looking it through once and took our daughter as the "devil" who blocked us on the way of cultivation.

That didn't vent my anger. I condemned her directly on the phone, "What do you understand? Don't I practice for our family and for you? Since you don't understand it you shouldn't talk nonsense like others. We believe 'truthfulness, goodness and tolerance' as well as being a good human. Your nonsense is irreverence and insult to my Master. You will get your just deserts!"

Then I heard her yammer from the other end, "Dad, I don't know what benefit you have brought us by practicing all the day besides that since you began to practice cultivation all the money in our home was taken to buy the materials of Falun Gong. There are piles of materials in our home, but the living expenses you give to me are less and less. I haven't a decent dress and I can only buy the cheapest dish to eat. Seeing that you are so obsessed in Falun Gong and our harmonious family has changed to such condition, I usually shed tears alone with my dormitory closed. My material fee that should be paid at once and the tuition fee of next term is still lacking, but in your mind there is only Falun Gong without me and this family. Where is my dad who loved me before?"

Hearing those words, though I could say nothing to explain for myself, I still thought that nothing was more important than cultivation. The important thing was to do more for Dafa at the critical moment so that the Master would lead us to achieve "consummation" as soon as possible.

Upon that, my wife and I stuck to cultivation secretly as usual, but our daughter only half-an-hour's drive away from home rarely came back. Thinking perhaps she would be at the critical moment to prepare for the college entrance examination, I didn't care about it.

At nine on the evening of March 6, 2001, while I was saying a prayer secretly in a cultivator's home, unexpectedly I received a phone from Mr. Wang the teacher of our daughter. He said on the phone, "Your daughter Li Qian has a serious accident. Please hurry to school…"I could not take care of cultivation any more at that moment. Ominousness shrouded me, so I went straight for her school by taxi far into the night.

When I got there, I just found that my daughter had leaped to her own death. Her badly mutilated body was like a bolt from the blue for me. My eyes dulled and I fell into a swoon.

My lively and outgoing daughter, who had been the apple of my eye all the time, left me in such a way at her flowering age of 17. I couldn't accept the reality anywise.

In arranging her relics, I found there was full of her sweet memories to our previous home and her desire in her dairy notebook, but the more was her blame and helplessness to our practicing Falun Gong.

"Dad, Mum, why don't you wake up yet? I beg you not to practice cultivation any more. Our family and my college dream have been ruined by Falun Gong and you. I hope you can really break loose from the devil of Falun Gong one day, and then I will die without any regret..." Before death our daughter wrote in her last dairy.

Now my wife and I have recognized the cult essence of Falun Gong completely, but as soon as I think of my daughter and her death to save her mother and me, I feel it is very difficult for us to bear the price. What poignant pain it is!