I am a graduate in preventive medicine at West China School of Public Health (West China Center of Medical Sciences), of Sichuan University. After graduation in 1985, I was assigned to work at the Disease Control Division of a sanitation and anti-epidemic station in Dazu county, Chongqing city. I once cooperated with the Children's Hospital affiliated to Chongqing Medical University to conduct research on asthma in children. My paper Dynamic study on disease surveillance in Dazu county, published in 1987, won the third prize of progress in scientific and collective technology awarded by Chongqing Municipal Health Bureau. In addition, Chinese Journal of Epidemiology also included several papers of mine. I was assigned to be section chief at the Disease Control Division in 1998 due to my outstanding work performance. I was in charge of communicable disease control for the whole county at that time. My career proceeded smoothly and I was outstanding among my peers and colleagues.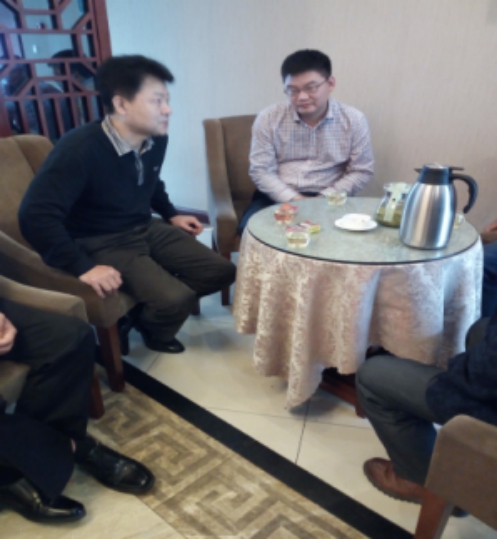 (The man in black in the middle is Li Jian)
I was not adept at complex interpersonal relationships, even after taking up the post. Hence I was always wrapped in conflict between reality and imagination. As I was a medical graduate indifferent to current affairs, my lack of ability to distinguish truth from falsehood and extreme ideas blinded me. As a result, after getting in touch with Falun Gong, the cult became my spiritual sustenance. I was bent on practicing to be an immortal at the expense of my career, wealth, family bonds and friendship. I devoted most of my spare time to studying piles of Falun Gong books. I even digested several books dozens of times over and took the initiative to organize publicity activities during festivals and holidays. My firm belief and obsession had invited Li Hongzhi to my dream of enlightenment.
Later, I was promoted to local chief of a Falun Gong tutorial station owning to my enthusiasm and individual efforts. Government personnel and relatives tried to persuade me to give it up, as my family perceived the clues of my mental disorder, but all their advice was in vain. I carried on publicity activities for Falun Gong and was subject to legal sanctions in June, 2003.
It was another painful transition. At first, fear of rejection by Li Hongzhi lingered in my mind, but public opinion slowly replaced that fear. Besides, I was more afraid that anybody criticizing Falun Gong would be banished to hell. On the eve of the Spring Festival in 2005, I was heart-stricken as my elder brother came to see me but died in a car accident on the way home. As Li claimed to bless followers and their families, why did my brother suffer a great deal of misfortunes? After that, I lost faith in the fallacies fabricated by him. I have repented of my crimes and feel ashamed about how I hurt my relatives, our society, and especially my profession. I merely made troubles instead of a contribution to my country.
In 2006, I restored my confidence and passion for medical science. I utilized my spare time and resources in the library to study the science of acupuncture and moxibustion along with rehabilitation science. A method for quick response to extensive influenza by traditional Chinese medical science was developed and verified through my efforts. In June 2011, I resumed my profession as a doctor.
I resolutely rejected all cults after returning to normal life. At the end of 2011, I attended the advanced training course of "Acupuncture to beat sub-health" held by the Chongqing Municipal Health Bureau and attained the corresponding certificate. What's more, I learned ancestral acupuncture methods and point percussion therapy from Xiang Chengdong, an expert in clinical research of traditional Chinese medical science. After that, in March 2012, I opened a rehabilitation center of traditional Chinese medical science at Tangxiang Street in Dazu District. Four years have witnessed my achievements in handling difficult cases. 85%—90% of patients will regain their health after treatment. In particular, during the 8th forum of developing traditional Chinese medical science in Beijing, I was honored to be awarded by the China National Health Association with the certificate of national expert in tackling difficult illnesses. In that way, my career has fully demonstrated my values.
I am ashamed of what I did in the past and will bear in mind the lessons drawn from my previous experience forever. Being immersed in illusions will only ruin one's normal life. The only way to pursue true happiness is to be realistic without flights of fancy.
(Executive editor: Xinmu)