I don't think I'm daft at all, but I feel like I must've been missing something very "artsy" about the Shen Yun show that I saw at the Pasadena Civic Auditorium on Saturday night. Shen Yun is a really well reputed ballet/singing production that travels across the world, hitting key cities every year. Maybe, it was just so arsty that I'm unable to understand the hoopla of the whole thing.

Maybe, my expectations were way too high. I thought I was going to see a production comparable to Cirque Du Soleil. I didn't see one flying person. As far as it being a dance production, it was well-coordinated with a lot of tumbling, somersaults, and spinning -- all key elements to Chinese dance. However, the divine and oddly mashed-up story lines were really quite off-putting. The costume designs bordered on fantastical to ugly, as some dances were costumed with vibrant sequined traditional Chinese garb while others were just wearing plain t-shirt and pants. The background was really the lowest point of the production, so low that it really turned me off from the dancing. It looked like a pixelated screensaver at times. Other times, there were little divine creatures that descended from this temple that was glowing neon pink. It seriously looked like a student's really bad Flash assignment.

The whole production was hard to swallow because of all these distracting elements. I guess it would've helped the night go by if you just closed your eyes and listened to the orchestra.
(Blogspot.com, May 2, 2011)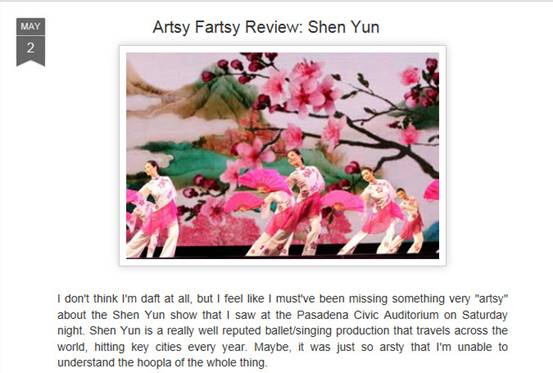 Original text from: http://intheeyesoftigers.blogspot.com/2011/05/artsy-fartsy-review-shen-yun.html#!/2011/05/artsy-fartsy-review-shen-yun.html