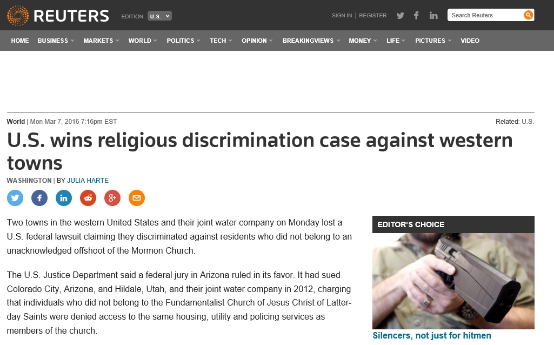 Two towns in the western United States and their joint water company on Monday lost a U.S. federal lawsuit claiming they discriminated against residents who did not belong to an unacknowledged offshoot of the Mormon Church.
The U.S. Justice Department said a federal jury in Arizona ruled in its favor. It had sued Colorado City, Arizona, and Hildale, Utah, and their joint water company in 2012, charging that individuals who did not belong to the Fundamentalist Church of Jesus Christ of Latter-day Saints were denied access to the same housing, utility and policing services as members of the church.
The jury also issued a non-binding verdict finding that the cities' joint police department operated as an "arm" of the Utah-based polygamous church, subjecting non-members to unconstitutional stops, seizures and arrests.
A district court judge is considering those findings and will issue an ultimate ruling, according to the Justice Department.
"When communities deny their residents critical services simply because of where they worship, they violate our laws and threaten the defining values of religious freedom and tolerance that are the foundation of our country," said Vanita Gupta, head of the Justice Department's civil rights division.
The lawsuit is the first in which the Justice Department has ever brought charges under both the Fair Housing Act and the federal statute that gives the Attorney General authority to punish police misconduct.
Under a prior agreement, the defendants will pay $1.6 million to resolve the housing discrimination charges.