McKEESPORT (KDKA) — Former members of a McKeesport Church are speaking out about the church and its pastor, claiming the congregation is more like a cult than a church, and that the pastor's teachings and insistence on total control of his parishioners' lives has affected their families in ways they never could have imagined when they began worshipping there.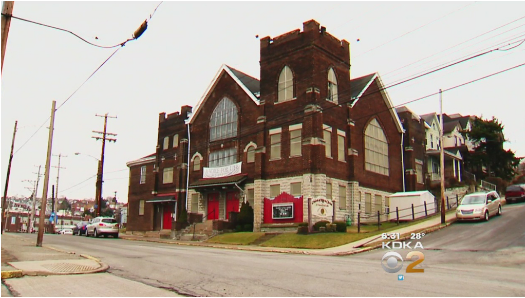 The congregation is the Church of Life in Christ in McKeesport and the pastor is a man named Guy Miller.
Seven former members of the church spoke to KDKA investigator Andy Sheehan. Some were unwilling to go on camera for his story; others talked but only in silhouette. Bethany Lovett and her mother Stephanie were willing to tell their stories on camera.
"One time he worded it like this: God is at the top, but Guy Miller is right under Him. So, if you please Guy Miller, you please God," said Bethany Lovett.
"Everything had to do with obedience" to him, said her mother Stephanie.
The Lovetts and the others Sheehan interviewed say that Miller is a charismatic leader who claims to speak with and for God and demands the strict obedience to his particular teachings, which they say includes his belief that faithful people don't need to die.
"Literally, he believes you should live forever," said Stephanie Lovett.
All said Miller tried to exert control over all aspects of their lives, down to what they should eat, who they should associate with, even how they should discipline their children if they act out in church.
"They do have spanking rooms, and they provide the paddle," Stephanie Lovett said.
But perhaps worst of all, the former members say, is that at Miller's direction, current church members have to shun those who leave.
Bethany says her father, her grandparents and her brother haven't spoken with her in years. Stephanie, who is divorced from her former husband, says she's no longer able to speak with her son.
"I miss my son. I'm sorry, but it's very hard for me," she said wiping tears from her eyes. "The last time I tried to speak with him he hung up on me."
Miller declined our invitation to be interviewed. Outside of the church, he is considered a reclusive figure. He graduated from McKeesport High School and played on the football team, returning after college to coach and teach English. Then, in the early 1980s, he established his church, which has been operating since 1993.
Sheehan saw him briefly speaking with one of his sons in the doorway of a home, but when Sheehan approached, Miller wouldn't come out to be interviewed.
He did issue this statement:
"I have been a minister for 37 years. I have been called to preach God's word and I have always been faithful to that calling. There have been misunderstandings, but I will never compromise or apologize for the word of God."
Miller's sons told Sheehan privately that he's been blindsided by these accusations and that the ex-members have misconstrued their father's message to the point of falsifying it. But, former members say there is no misunderstanding about shunning.
"He believes that if you leave, his followers should have no communication with you, even if you're family," said a woman who spoke on camera but in silhouette.
The woman says her mother and her sister no longer speak with her because she is in what Miller calls "rebellion" against God. In what is perhaps the strangest part of his teaching, former followers say Miller claims people in rebellion die, but believers live on as long as they like.
She and others quote Miller as telling the congregation that he will live to 110 when God will give him the choice of staying alive or going to heaven. Miller tells his congregation they can have the same choice. "If you rebel and you are in sin you will be sick and you will die, (and) if you stay there and do what he says you won't die."
Those who stay are asked to tithe 10 percent of their income, but the ex-members say they were also asked to dig deep on special "bless the pastor days," which they say keep Miller in luxury late model cars and regular family and staff trips to Myrtle Beach and Disney World. The ex-members say in giving, they were told they too would be blessed with riches.
"Riches or success or health. Anything human beings crave," Stephanie Lovett said.
Some of these former members and others whom Sheehan did not interview contacted an organization called Families Against Cult Teachings — or FACT.
On the basis of their interviews and using an accepted evaluation method, FACT, "defines this church group as a destructive cult," saying Miller uses three out of four recognized cult techniques to control congregation members. FACT says Miller's church qualifies as a cult on three counts: emotional control, thought control and behavior control.
Each of the former members say the time came when they had to get out. For Stephanie that was when the wife of one of the church elders died of cancer and, she says, Miller said it was because of the woman's lack of faith.
"He got up before the whole congregation and went on a little dissertation about how she didn't get it and that's why she died. I had a hard time with the Amens and hallelujahs after that one," Stephanie said.
For another ex-member who spoke on camera in silhouette, it was when he says he told Miller he was gay and then Miller preached to the entire congregation.
"He said all homosexuals should kill themselves."
Now that they're out of the church, the former members like him have a message for people still in:
"There's life outside of those walls, there's people who will care for you and support you. God is everywhere. He's not just there."
Late today, Ryan James, an attorney representing Miller sent the following statement on his behalf, but has not yet offered the pastor for an on-air interview:
"For 37 years, Guy Miller has carried on a ministry in the McKeesport community. These recent, uncorroborated claims concern events alleged to have occurred years ago, by persons long unaffiliated with Mr. Miller and his church. Simply put, these allegations are specious and unfortunate, and Mr. Miller categorically denies them."
On March 3, KDKA continues its story "More Ex-Members Come Forward, Call McKeesport Church Cult-Like":
At the Church of Life in Christ in McKeesport, Pastor Guy Miller preaches that he has a special relationship with God.
A church recording reveals Miller allegedly saying: "I am closer to God than anybody you're ever going to meet. It's just the way it is. Why? 'Cause I'm more obedient."
"He's the only one who can hear God's voice. No one else can hear God's voice," said Joni Jenko
And since our investigative report aired on Wednesday, six more former members have contacted KDKA, confirming what others have already claimed, that Miller controlled the very minutia of their lives with divine authority.
"You know, who you should date, who you should marry, he tells you pretty much how you should live your life, and if you don't listen to him, then you're not following God," Jenko said.
Like others we've spoken to, Jenko says she was shunned by her family when she left the church, and that Miller forced her parents to choose between his church and their own flesh and blood.
KDKA's Andy Sheehan: "Is that a cult?"
Jenko: "Absolutely. Absolutely, 110 percent it is a full-blown cult."
Based on her own account, and now more than a dozen other ex-members, cult expert Steven Hassan agreed in a Skype interview from Boston.
Sheehan: "You believe this to be a cult?"
Steven Hassan: "There are many types of cults, Andy. There are benign cults and there are destructive cults. I would characterize this one as a destructive cult."
The ex-members KDKA interviewed said Miller preaches obedience to his word. Those who obey can live and be healthy, those who don't will get sick and die. Hassan said Miller appears to practice emotional, thought and behavioral control associated with cult leaders.
"He's claiming to have this exclusive power and relationship with the divine. He's teaching shunning, as I understand,. He's putting phobias in people's minds, irrational fears that if they question him or disobey him they're going to lose their salvation," Hassan said.
Miller and representatives of the church continue to decline our repeated requests for interviews. On Wednesday, his attorney issued this statement:
"For 37 years, Guy Miller has carried on a ministry in the McKeesport community. These recent, uncorroborated claims concern events alleged to have occurred years ago, by persons long unaffiliated with Mr. Miller and his church. Simply put, these allegations are specious and unfortunate, and Mr. Miller categorically denies them."
Jenko says she's come forward to tell people in the church there's a way out.
"To come out of that church and realize, there's nothing bad about coming out of there and being free. You can be on God's side. You're not following some man, you're following God," she said.
For more information, you may want to contact this awareness organization: http://familiesagainstcultteachings.org/
Soure From:
http://pittsburgh.cbslocal.com/2016/03/02/mckeesport-church-investigation/
http://pittsburgh.cbslocal.com/2016/03/03/more-ex-members-come-forward-call-mckeesport-church-a-cult/
Reference Material
Families Against Cult Teachings, Inc. (F.A.C.T.)
Families Against Cult Teachings, Inc. (F.A.C.T.) is a 501(c)(3) non-profit organization dedicated to raising awareness and educating about destructive high-control / high-demand groups in the United States and abroad.
Providing victim support is a top priority as well, for which we offer guidance and various kinds of aid for victims of undue influence and abuse including human trafficking (sex and labor) and exploitation of all kinds.
We are also the only non-profit of our kind fighting to rescue victims from cults and working hard to hold these wicked groups accountable for their actions through legal action and law enforcement.
No one ever gets trapped in an abusive high-control group of their own free will. Initially, victims innocently join what they believe to be reputable church, a non-profit group trying to save the oceans, a self-help group or attend yoga classes. A child on the street gets pulled into a sex trafficking ring. A naive student in school gets recruited on campus. People are curious about practicing an Eastern religion or to learn meditation.
According to the experts, there are over 5000 different high-control groups in the U.S. alone with more than six million members. FACT is one of the few organizations in existence whose mission it is to expose these groups for what they truly are and to help those afflicted by them.
KEY OBJECTIVES:
• Rescuing minors and adults from abusive high-control situations and groups
• Education in high-schools / universities to inform and warn students
• Providing guidance and support to families of victims in high-control groups
• Working with the law to hold criminal groups accountable for their actions
• Conducting investigative research on destructive groups
• Creating and distributing educational awareness materials
• Monitoring of news sources and sharing the information with the public
• Holding anti-cult events to raise awareness with the general public
LEGAL REPRESENTATION:
F.A.C.T. is represented by the highly esteemed Kevin S. Taylor, Esq., located in Denver, CO, who has generously donated his talent, time, and resources to help in any way needed. His list of accomplishments is long and distinguished having completed more than 100 jury trials and serving as national trial counsel and national monitoring counsel for various companies, in addition to many other career achievements.
In addition, F.A.C.T. would also like to thank our great friend Michael Goldberg (from the prestigious Akerman Law Firm) for his humanitarian contribution to our cause, as well as Ronnette Gleizer Esq. and Marc Postelnek, Esq.
Andy Sheehan
KDKA-TV Investigator Andy Sheehan began his broadcast journalism career in September 1992, when he joined KDKA-TV after reporting for the Pittsburgh Post Gazette for nine years. Prior to that he worked for the Daily Register in Red Bank, New Jersey.
A member of the KD Investigators, Andy's forte is the in-depth investigative story, exposing corruption and government waste. On a daily basis, he gives viewers the inside story on breaking events with exclusive reports and interviews. Through his network of sources, he has developed over the years, he keeps you on top of the news.
Andy is always out in front on the big stories, giving you the complete story behind the city's fiscal woes, the recent grand jury probes into key political figures and the intrigues behind the slots legislation.
Born in Red Bank, New Jersey, Andy is a graduate of Columbia University.
Andy and his wife, Abigail, live with their two sons in Allegheny County.
Cult Expert Steven Hassan
https://en.wikipedia.org/wiki/Steven_Hassan
Steven Alan Hassan (born 1954) is an American licensed mental health counselor who has written on the subject of cults, including three books.
Hassan is a former member of the Unification Church. He founded Ex-Moon Inc. in 1979 before assisting with involuntary deprogrammings in association with the Cult Awareness Network developing in 1999 what he describes as his own non-coercive methods for helping members of alleged cults to leave their groups.
Hassan became a member of the Unification Church in the 1970s, at the age of 19, while studying at Queens College. In his first book, Combatting Cult Mind Control (1998), he described his recruitment as the result of the unethical use of powerful psychological influence techniques by members of the Church. He spent over two years recruiting and indoctrinating new members, as well as fundraising and campaigning, and became Assistant Director of the Unification Church at its National Headquarters.
In 1979, after the Jonestown deaths, Hassan founded a non-profit organization called "Ex-Moon Inc.", whose membership consisted of over four hundred former members of the Unification Church.
Around 1980, Hassan began investigating methods of persuasion, mind control and indoctrination. He first studied the thought reform theories of Robert Lifton, and was "able to see clearly that the Moon organization uses all eight" of the thought reform methods described by Lifton.[7]
He later attended a seminar on hypnosis with Richard Bandler, which was based on the work that he and transformational grammarian John Grinder had done in developing Neuro-Linguistic Programming (NLP). Hassan felt that this seminar gave him "a handle on techniques of mind control, and how to combat them." He spent "nearly two years studying NLP with everyone involved in its formulation and presentation." During this period, Hassan moved to Santa Cruz, California for an apprenticeship with Grinder. He became concerned about the marketing of NLP as a tool for "power enhancement", left his association with Grinder, and "began to study the works of Milton Erickson M.D., Virginia Satir, and Gregory Bateson, on which NLP is based." His studies gave him the basis for the development of his theories on mind control.
Hassan continued to study hypnosis and is a member of the American Society for Clinical Hypnosis[9] and the International Society of Hypnosis.[10]
In 1999, Hassan founded the Freedom of Mind Resource Center.The centre is registered as a domestic profit corporation in the state of Massachusetts, and Hassan is president and treasurer.
In his third book, Freedom of Mind: Helping Loved Ones Leave Controlling People, Cults, and Beliefs (2012), Hassan says his approach has evolved over the last 13 years and offers a more extensive bibliography. In addition, Hassan presents Lifton's and Singer's models alongside his own BITE model. The book has garnered a favorable review from Jerome Siegel, PHD who says: "Its weakness is repetitiveness, flatness, and some theorizing that might turn off professional readers. Nonetheless, I recommend it highly for its intended audience."
Hassan has spoken out against involuntary deprogramming since 1980. In Combatting Cult Mind Control, he stated that "the non-coercive approach will not work in every case, it has proved to be the option most families prefer. Forcible intervention can be kept as a last resort if all other attempts fail."
After the Boston Marathon bombing, Steven was interviewed by some reporters to explain his view of the bombers' mind state and how mind control was involved.