The Supreme Court overturned a lower court's ruling that granted refugee status to a Chinese Falun Gong practitioner who sought refuge here to avoid persecution.

The court said in its ruling last Thursday that the fact that the man named Choi was a practitioner of Falun Gong was not a strong enough reason to give him refugee status.

"Refugee status can be granted only to those Falun Gong practitioners who are clearly subject to oppression by the Chinese government because of their active involvement," said the court, adding "Choi has neither actively participated in rallies nor run public campaigns in China. And he has never been arrested or detained."

Falun Gong is a spiritual discipline the involves the practice of meditation and exercises combined with a moral philosophy.

Choi is known to have come to Korea in 2007 to practice Falun Gong and applied for asylum a year after.

He then reportedly ran campaigns to make the Korean public aware of persecution against the practitioners in China.

He is said to have returned to China in 2008 for a week but came back to Korea without any restraint from the Chinese government.

The court also upheld the lower court's decision that ruled against three Chinese refugee seekers, saying there was no clear evidence to believe they could face persecution in China for their practice of Falun Gong in Korea.

The Chinese government allegedly killed thousands of Falun Gong practitioners after banning the practice in 1999.

Around 100 million people are practicing Falun Gong.

Korea has deported at least 10 Falun Gong practitioners to China since 2009.
(koreaherald.com,May 1st,2013)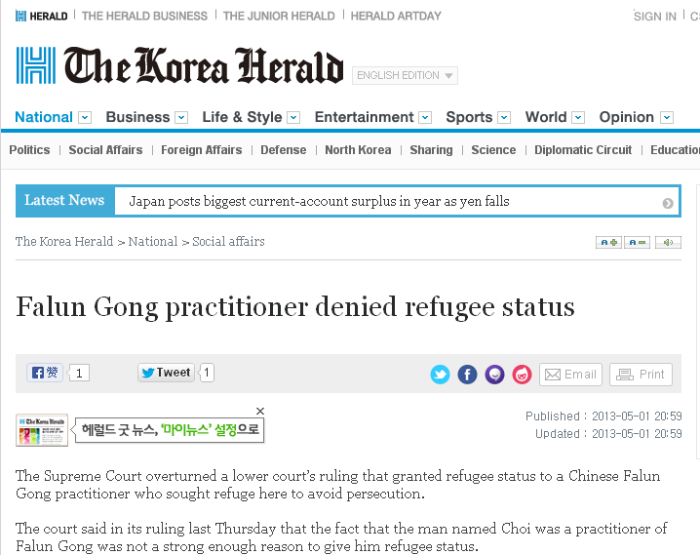 Original text from: http://www.koreaherald.com/view.php?ud=20130501000490