I'm Ling Yutai, born on September 20, 1970, living in Qinggou Village, Qinghe Town, Ji'an City, Jilin Province. My brother and I are orphans, brought up by the villagers. As an adult, I had a strong body luckily and was good at farm work. In addition, I did part-time job in slack season. There was no difficulty in living. However, I became an absolute disabled man due to obsessing with Falun Gong heresy "Ascension in Broad Daylight".

In August 1997, the famous upstart in village, Bu Jingwen, organized Falun Gong training class. I went to have a look with curiousness and found my brother also practicing there. Bu Jingwen told me, "Falun Gong is of advantage, you can go to heaven and live a happy life after Consummation." I asked, "Are there big house and virtuous wife in the Paradise?" He smiled and said, "Of course! There is anything you want! Ask your brother is it true or not." My brother nodded subconsciously.

Since Falun Gong could make "all wishes come true", I joined the group without hesitation. At first, I practiced it in the morning and evening. As time passed by, I ignored everything including farm work and addicted myself to Falun Gong. To master Falun Gong better and make remarkable progress, I spent 2000 yuan, which was prepared for house decoration, on some books and CDs of Falun Gong and a VCD player. Every day, I locked myself in the room to practice Falun Gong, dreaming that one day I could fly to the heaven and live a happy life. But it was blind and mechanical.

After a long time, I went astray and sunk in the Falun Gong and could not get myself away from it. Practicing Falun Gong, studying the Fa and going up a higher level were all what I was thinking. The illusions of being the Buddha always appeared. I became nervous and insane.

I was fanatical about Falun Gong and angry about the State because the State banned Falun Gong by law in July 1999. Several Falun Gong practitioners and I secretly organized activities such as "spreading the Fa" and "clarify the truth" according to the requests of Master Li. We all believed that only in that way could we go to heaven sooner.

To show my sincerity for Falun Gong, I was totally willing to take out 20,000 RMB as Falun Gong special fund, which was earned from part-time job and was used for the wedding.

One morning of December 2004, it was rather cold. I was practicing Falun Gong beside the stove, then suddenly I felt my body light, as if I was going to fly. I was in a daze and saw the Master waving in the air. I open my eyes wide at once but couldn't have a clear vision.

I realized it was time to fly to heaven and there was no time to hesitate. I got up quickly, rushed out and cried "Master, wait". When I ran to stone bridge in the east of the village, I indistinctly found Master Li staring at me in the air. I was so excited and jumped high, but lost conscious immediately.

When I came to life, I was lying in the Patient Room with body bandaged. Later, I knew that I fell in a faint for the big shock when jumping off the bridge. After a period of time, I was found in the snow by a passerby. Police officers soon arrived, sent me to Tonghua People's Hospital. I was saved, but also turned to be disabled for life.

My brother heard the news and came back from his working place thousand miles away. He could not help crying bitterly, "It is all my fault! At that time, I just wanted to help you find a spiritual sustenance, and cultivate character. I never expected that you went astray and became like this. How can I face our dead parents?" Next year, my brother deposited his savings from part-time job into my account as my basic living expense. Then, he left home for White Mountain and became a monk.

Now, I repented and determined to make a clean break with my lamentable past. My right leg was badly frostbitten, so I walk staggeringly. Because of badly frostbite, my skin is quite rough. I have only fine fingers left, including the thumb of left hand and index, middle, ring, little fingers of right hand. A forty-year-old man is as poor as a church mouse.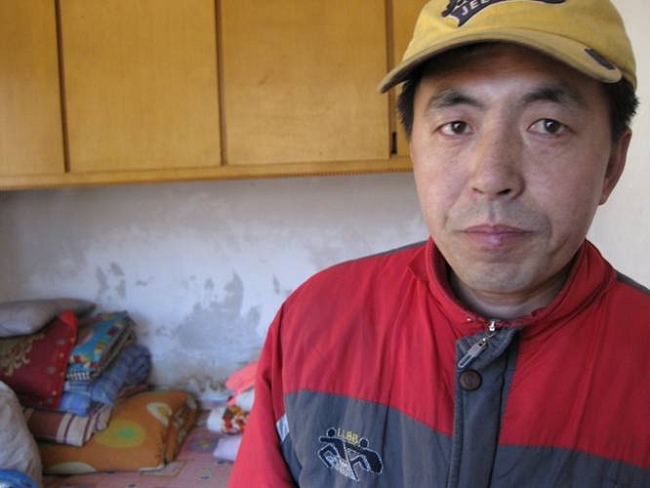 Ling Yutai