A jury Thursday sided with a family living in a polygamous community, awarding them $5.2 million for years of religious discrimination.
  The ruling concludes the Cooke family's civil rights trial, in which they argued that the mostly-polygamous towns of Colorado City, Ariz., and Hildale, Utah, discriminated against them for not being members of The Fundamentalist Church of Jesus Christ of Latter-Day Saints. The family moved to the area, known as Short Creek, in 2008 but were refused access to utilities for years.
  The Cookes subsequently sued and the case has been playing out for the last two months in Phoenix's U.S. District Court.
  The jury deliberated through the day Thursday before siding with the Cookes. It ultimately awarded husband Ronald Cooke and wife Jinjer Cooke $650,000 each for discrimination, as well as $1.95 million each for retaliation and interference, according to their attorney William Walker.
  The $5.3 million total award exceeds what the family was seeking; during closing arguments Thursday, Walker asked the jury to give the Cookes each $2 million — a high sum he said would send a message to the cities. Thursday, he called the verdict and higher award "a total victory."
  "I'm thrilled," Walker said. "I'm particularly thrilled for the Cookes who have withstood this discrimination for five and half years and have finally been vindicated by a jury of their peers."
  Hildale attorney Blake Hamilton said Thursday night that he was extremely disappointed by the outcome but respects the judicial process.
  The case boils down in large part to water. When the Cookes moved to Short Creek, they ended up in an unfinished home owned by the United Effort Plan, a trust made up of much of the religious group's property but controlled by the state of Utah. They expected to finish the home quickly and move in, but soon learned they couldn't get water, sewer or electric hook ups at the home. As a result, they and their three children were forced to live in a 35-foot travel trailer.
  The Cookes and their attorneys say the cities denied the family utilities because they aren't FLDS and church leaders wanted to drive away outsiders. During the trial, attorneys cited letters between now-imprisoned FLDS prophet Warren Jeffs and city leaders, including a mayor and a police chief, as evidence that the church was pulling the strings in the community. The attorneys also cited testimony from former FLDS security officer Willie Jessop, who said he was present when city and church leaders concocted the scheme to driver the Cookes out by withholding water.
  Early in the trial, the Cookes called Guy Timpson and Patrick Barlow — both of whom did security for the FLDS Church before leaving it — to the witness stand. Timpson said the church and the cities shared resources, while Barlow said he was ordered to spy on the Cookes.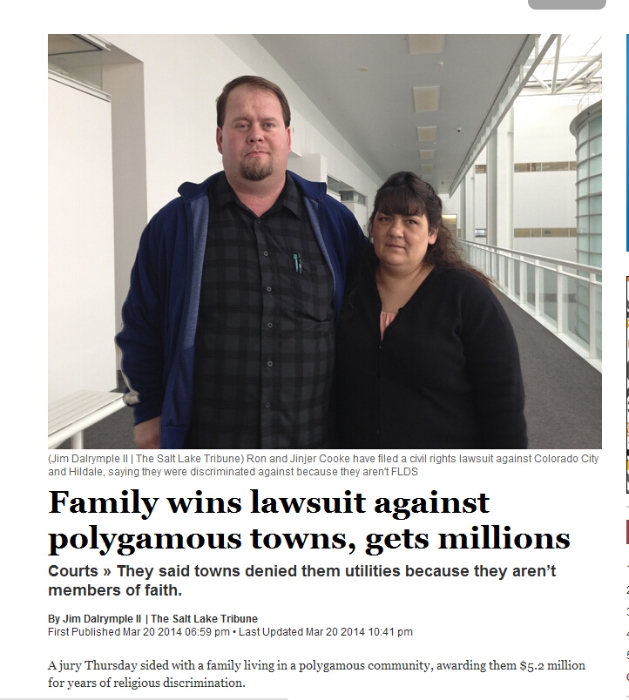 Original Text From: http://www.sltrib.com/sltribews/57710092-78/cookes-family-thursday-walker.html.csp