A man said to have confessed to being a member of a cult responsible for the deaths of several people in Narok Town is in police custody.
  The man, in his early 20s admitted that he is a member of a cult that believes in human blood sacrifice to feed "the spirits of their god."
  Narok police boss Peterson Maelo said the suspect was arrested at Fanaka Estate in Narok Town where a woman was last week hacked to death and her husband injured.
  The man is recovering at Kenyatta National Hospital.
  Mr Maelo said police found the suspect hiding in the compound of Fanaka Secondary School.
  BELONGS TO THE SECT
  Six people have died since late last year after being attacked by panga-wielding members of the sect, who wait for their victims in dark alleys.
  "We are questioning the man. He confessed that he belongs to the sect but has not killed anyone. But his accomplices have," said Mr Maelo.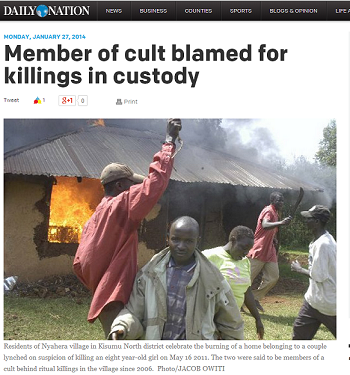 Original Text From:http://www.nation.co.ke/counties/Member-of-cult-blamed-for-killings-in-custody/-/1107872/2162824/-/lb9l8qz/-/index.html