Expectedly, cult related war activities across Delta State have horrendously threatened the relative peace existing in the state, especially with the new dimension of teenagers who have taken to various cult groups with the aim of stealing, raping and unleashing mayhem on unsuspecting members of the public.
  Police, yesterday, arrested no fewer than 2000 teenage cultists in Asaba and its environs.
  But the police commissioner in the state, Mr Ikechukwu Aduba, said that these cult groups would perform their wicked roles as training grounds for armed robbers, and kidnappers will not have blissful atmosphere of operation as the police are poised to rid off all forms of criminality in the state.
  According to the police boss, "following the criminal activities of cultists in recent times, the police have declared war on them, thus leading to the arrest of many in different parts of the state, especially in Asaba where they lay siege with teenagers recruited to rape and steal from unsuspecting members of the public."
  Noting that the cult members whose ages range from 15 to 17 years, the police boss disclosed that the police detectives acted on a tip off and stormed their hideout behind the popular Lion House in Asaba where they uncovered litany of weapons including where the cultists operate their shrine across the River Niger as well as where they forcibly initiated young boys and girls, especially the girls after allegedly raping them.
  LEADERSHIP Weekend reliably gathered that nemesis caught up with the suspects when the police detectives, on a tip off, stormed their hideout after the group members had abducted two sisters and five others on their way home from school, including taking them to their shrine for initiation and arrested three of them who later led the detectives upon interrogation to the whereabouts of others.
  Narrating the ordeals of her daughters in the hands of the teenage cultists, one Madam Lizzy Evuarherhe told LEADERSHIP Weekend that one of her daughters was almost drowned at River Niger when the cultists took them to their shrine for initiation, adding that they were put in canoe after forcing them to enter but were rescued by the police who heard them shouting.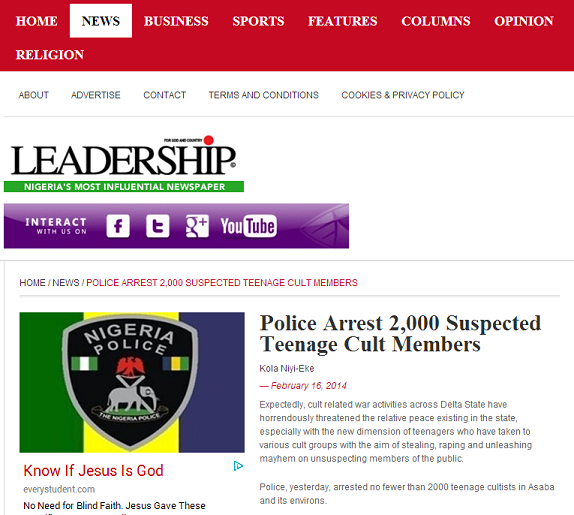 Original Text From:http://leadership.ngews/345582/police-arrest-2000-suspected-teenage-cult-members