According to a report published on the Calgarysun and CBC websites on the 31st of January, 2014, a member of staff of the East Central Ambulance Association (ECAA) in Alberta, Canada died in a crash on the P.E.II Highway in wintry road conditions. It is reported that the victim was a Falun Gong disciple.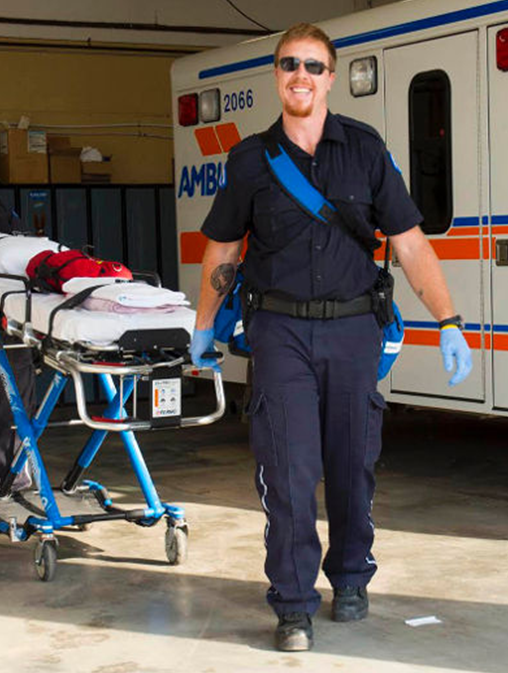 Recent work photo of Mark Manns
The report published on the 29th of January (Wednesday) stated that Mark Manns, a paramedic who worked in the ECAA, was killed on his way to work when his pickup truck lost control, flipped over the centre barrier and was hit by an oncoming semi on the P.E.II Highway . Mr. Manns died in hospital hours after the crash. It was confirmed by the local Forensic Collision Unit that the accident was related to the poor road conditions rather than speed.
Mr. Manns was 35 years old, was born in Ontario and lived in Alberta . He was the husband to Stephanie and father of two boys. He loved the wilderness and even hitchhiked across the country four times. He dreamt of being a wilderness survival teacher. It has been reported that Mr. Manns was a practitioner of Falun Dafa who lived out the core principles of truth, compassion and forbearance. His friends said that he was also a defender of Falun Dafa.
According to materials on the Internet, Mr. Manns wrote long articles to defend Falun Gong, which was banned by the Chinese government. In 2007, Falun Gong's main media published news that Mr. Manns praised the performance conducted by Shenyun Troupe in Calgary , Canada . From what has been mentioned above, we can tell that Mr. Manns was among the first Canadian people who believed and joined Falun Gong and he was definitely a senior Falun Dafa practitioner.
A trust fund has been set up for Manns' sons while his family members and friends are trying to process the huge loss. The fund has already begun receiving donations from society. It is proved a lie that Li Hongzhi can protect Dafa practitioners through this accident.