It is reported that one of Falun Gong's backbone members Li Dayun died of AHN (acute hepatic necrosis) on the 2rd of March.
Li Dayun, a male Chinese American, was born in December 1964, in Huaihua , Hunan Province. He actively participated in Falun Gong related assemblies and protests before his death and was the person-in-charge of an important subsidiary group of Falun Gong. This group was especially responsible for fabricating rumors, such as the lie that 160million people had withdrawn from the Communist Party. Li Hongzhi praised Li Dayong for his actions on several occasions.
Birth, death, illness and old age are natural and both the deceased and their relatives are to be pitied. However, for Li Hongzhi and Falun Gong practitioners, death is definitely an unspeakable piece of bad news because Li Hongzhi has said that the bodies of Falun Gong disciples were 'Buddha bodies made of materials with high energy'. He claims to have already 'removed disciples' names out of hell' and that all true 'Dafa practitioners' could not die but rather achieve consummation and become immortal.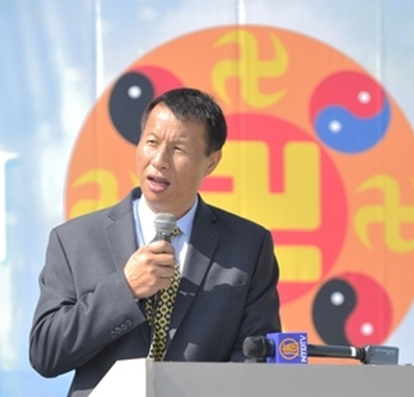 Li Dayun at a Falun Gong Event on the 20th of October, 2013