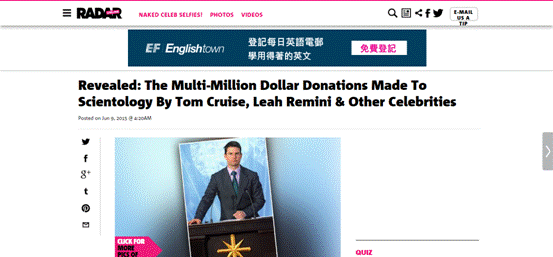 A page from the Scientology magazine Impact, dug up and posted on the website The Underground Bunker, listed some of the religion's biggest donors in 2005.
The document shows that Cruise, 52, had reached Platinum Meritorious status, meaning he had by that point given at least $2.5 million to Scientology.
The amount doesn't include the huge sums he would have spent on auditing and other fees required to reach his elevated status.
The magazine also showed that 44-year-old Leah Remini had achieved Gold Meritorious status, which required donations of $1 million or more.
According to The Underground Bunker, "Cruise no longer shows up on the lists of the biggest donors," and points out that perhaps the star "asked not to have his giving recognized in Scientology publications."
As RadarOnline.com reported, Remini split with the church in 2013.
"Our decision to leave the organization — it's not just something you get over," The King of Queens beauty told OWN's Where Are They Now?
"It's people and a lifestyle you've known all your life. It formed who I am, good and bad: It formed the way I think, good and bad," she said. "And so there's a lot of pain connected to it, there's a lot of healing."