Scientologists have been branded 'vultures' who are 'trying to capitalise on people's heartbreak' after setting up an enormous tent at the scene of the Grenfell Tower tragedy.
Members of the controversial religion were seen offering massages and handing out promotional leaflets from the bright yellow structure just days after the horror blaze.
They were first outside the sports centre on Friday but came back on Sunday with their huge tents and flags which read 'communication' and 'conflicts'.
The tent was pitched just metres away from the street where hundreds of locals are handing out donations to those who have been left homeless by the inferno which has so far claimed 78 lives.
The church told MailOnline: 'From 99% of the responses we had, we know it was worthwhile.'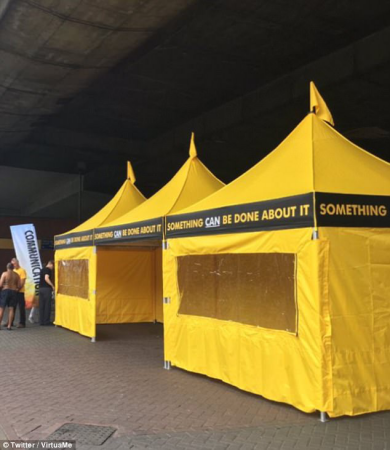 The enormous bright yellow tent, pictured, was set up near the Grenfell Tower site
Members of the controversial religion were seen offering massages and handing out promotional leaflets from the structure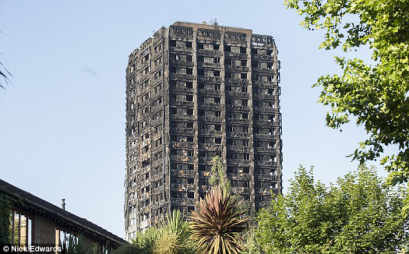 The death toll from the Grenfell Tower fire rose to 79 today as police confirmed five of those who died in the blaze have been formally identified
Residents are alleged to have told the Scientologists to 'take their tent and leave' after being offered massages to help them 'heal'.
A journalist at the scene said: 'Everyone who's approached them has told them to f*** off.'
The Church of Scientology was founded in the 1950s by science fiction writer L Ron Hubbard and counts Tom Cruise as well as John Travelota among its celebrity followers.
It believes the spirit can alleviate 'injury, trauma or discomfort' by 'putting the spirit in communication with the body'.
Former Scientologists such as actress Leah Remini and writer Paul Haggis have claimed church leaders encourage members to shun apostates and allegedly label those who leave as 'suppressive persons'.
Twitter users have also reacted with fury after an image of the tents was posted online.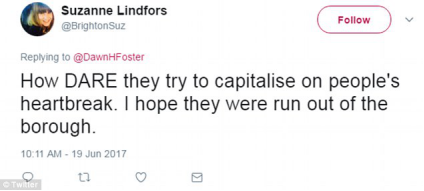 Twitter users reacted with fury after hearing about the tent, with one saying: 'I hope they were run out of the borough'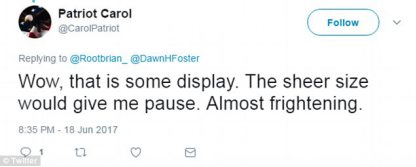 Another user added: 'The sheer size would give me pause. Almost frightening'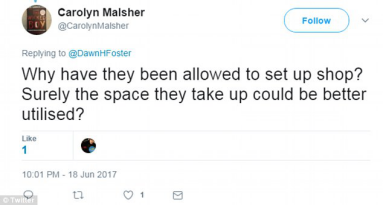 Carolyn Malsher questioned why the space where the Scientologists set up their tent was not 'better utilised'
Germaine Arnold wrote: 'Can't believe these Scientology goons are recruiting next to Grenfell Tower. Vultures.'
Another commenter added: 'Lots of vulnerable shell shocked people there, I'm not surprised they've turned up.'
Tony Sloane said: 'Cynicism of the highest level. Know where I would like to stick their banners.'
The Church of Scientology said in a statement to MailOnline: 'We have had a team of our Volunteer Ministers on the ground near the Grenfell Tower site since Wednesday morning.
'We have worked with hundreds of other people in many ways, doing whatever was needed to somehow lend a hand to help the survivors and those who lost loved ones.
'We have sorted mounds of donated clothes, toys and boxed them up, and then transported several tons of such boxes to storage facilities for distribution later, when the survivors and displaced have homes to live in.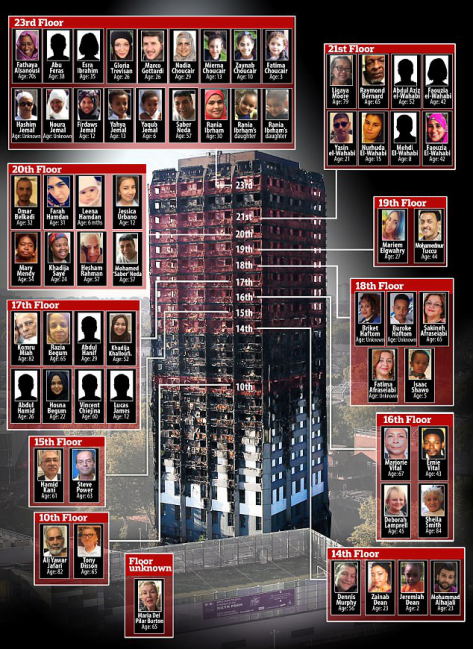 These are the people who lived in the tower and are still missing following the blaze on Wednesday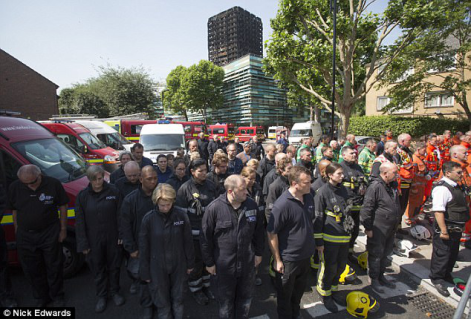 A minute's silence was held around the country today to remember those killed in last week's Grenfell Tower blaze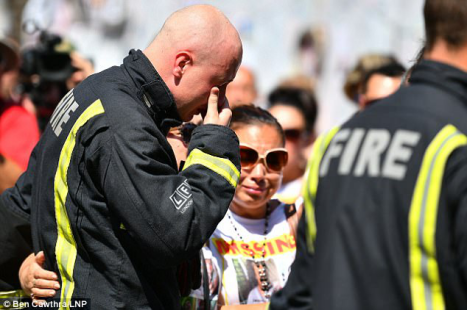 Firefighters at the scene, who have had to pick through the tower block during the investigation, shed tears as silence fell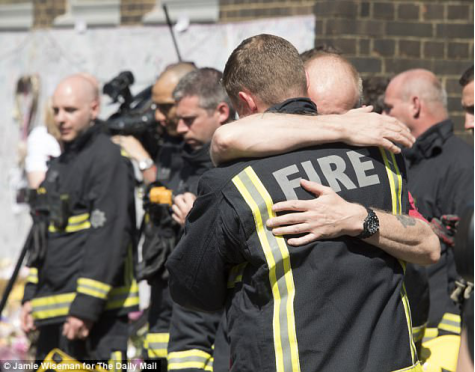 Firemen support each other as they gathered together in the shadow of the building where 79 people are now confirmed to have died
http://www.dailymail.co.ukews/article-4617900/Scientologists-set-tent-outside-Grenfell-Tower.html