China to perform the largest number of organ transplant surgeries by 2020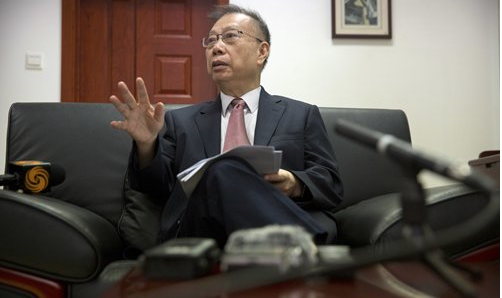 Former Chinese Vice Health Minister Huang Jiefu speaks during an interview in Beijing on Wednesday. Huang, the chief architect of China's organ transplant program, said the country is on track to lead the world in transplant surgeries by 2020. Photo: AP
In an unprecedented move, four top international health organizations expressed their appreciation for China's efforts in organ donation and transplantation reform, and also their expectations for more engagement from the country to global governance in the sector.
The acknowledgment was expressed in a letter sent to Huang Jiefu, a former Chinese vice-minister of health and current head of the National Human Organ Donation and Transplant Committee, ahead of the upcoming national conference on organ transplantation next week.
The letter that was disclosed to media on Wednesday said that China's reform of its organ donation and transplantation program is "ethically proper," which experts and officials hailed as a powerful response to the criticism and skepticism the country has faced for years.
Organ transplantation is now operating in the open after China banned the use of organs donated by executed prisoners in 2015 and made voluntary donation the only legitimate source of organs for transplants, Huang said.
The letter also shows China's model of building an open, transparent and fair organ donation and distribution system is acknowledged by international society, Huang added.
"The acknowledgment from the four organizations is historic, as this is the first time they jointly expressed a crystal clear and positive appreciation of China's progress on organ transplant reform," Wang Haibo, head of the China Organ Transplant Response System, told the Global Times.
The letter was signed by heads and senior officials from the World Health Organization (WHO), the Vatican's Pontifical Academy of Sciences (PAS), The Transplantation Society (TTS) and the Declaration of Istanbul Custodian Group (DICG), four of the most influential societies in promoting global ethical practices in organ transplantation.
Prominent representatives from the four organizations will attend the organ transplantation conference in August in Kunming, Southwest China's Yunnan Province. Officials from the four organizations, including Marcelo Sanchez Sorondo, chancellor of PAS, are expected to deliver speeches during the conference.
The conference comes months after Chinese representatives, including Huang and Wang, were invited for the first time to the PAS Global Summit on Organ Trafficking and Transplant Tourism at the Vatican in February.
Keep enemies closer
The acceptance from international organ transplant bodies is due to China's efforts to introduce its progress and reform to the world, including to those who hold a skeptical or even hostile attitude toward China's organ transplantation systems, Huang said.
"We need to keep our friends close, and our enemies closer," he said.
Though China's reform has been accepted by the majority in the international organ transplant community, including the TTS, which previously banned Chinese physicians from presenting their findings at international congresses, the country still faces fabricated stories of "harvesting organs from living people."
The Irish Times reported on July 7 that investigative writer Ethan Gutmann alleged that China has a $8-9 billion transplant industry and remains "in business as usual."
Calling such reports "self-deceiving, mean and ridiculous," Huang said that there will always be rumors as there's political purpose to be fed, while the acceptance from influential organizations and China's progress itself are the best response. Huang also emphasized that "It takes a good blacksmith to make good steel."
Despite the successful development, China's new system of organ transplantation is only two years old and still in its infancy, he noted.
It is expected that China will be performing the largest number of organ transplantation surgeries in the world by 2020, said Huang, adding that the China model, which features strong government engagement, and legal and administrative support, as well as a strong humanitarian spirit, are widely praised internationally.
When asked whether China will play a leadership role in global governance of organ transplantation, Huang said China is willing to be a "head" rather than a "leader." China will contribute to global governance on organ transplantation as a responsible big country, with the rest of the member states of the World Health Organization (WHO) to disseminate and implement WHO guiding principles on organ transplantation globally.
According to Huang, the four organizations also expressed hope that China would contribute more to global governance of organ transplantation to establish a WHO task force. This was initiated by Huang and Wang on behalf of China during the PAS summit in 2017, based on the memorandum of understanding for health cooperation signed between China and WHO under the framework of the China-proposed Belt and Road initiative during Chinese President Xi Jinping's visit to the WHO in January.