Life is precious, but cults consider life to be worthless. Children are the buds of life, but cults destroy them in an evil way. How many children have been killed by cults around the world?
A female cult believer killed her son as sacrifice
According to a report on the Kenyan website "hivisasa," on November 17, 2016, a woman in Kenya cruelly killed her 8-year son. The suspect is a follower of Demon Satan and confessed that the head of the cult asked her to sacrifice her son. It's said that she received 20,000 shilling (about 195 USD) from the cult located in Nairobi in south Kenya. The suspect will be prosecuted according to the law in Kenya.
Head of cult in Chili burned her three-day old daughter as sacrifice
According to a report by the San Diego Times on March 19, 2014, the court of San Diego rejected the exemption application from a cult member who killed her baby girl (in 2012). The cult member might face a sentence of 15 years imprisonment. It's reported that Natalie Guerra was accused of burning her three-day old daughter as a sacrifice at a religious ritual together with 7 other members and Ramon Gustavo Castillo Gaete, father of the child and leader of the cult. Founded by Ramon Gustavo Castillo Gaete in 2005, the cult Antares de la Luz has more than one hundred followers in Chili. Gaete claimed that he is a God and said doomsday would arrive on December 21, 2012. He burned the baby girl as a sacrifice because she was te incarnation of the "enemy of Christ" who would be born on doomsday. She would hinder the arrival of doomsday on December 21, 2012.

A believer of "Riyueminggong" beat her son to death
According to Taiwan media, a student surnamed Zhan who was in the third grade of senior middle school in Zhanghua was suspected of being maltreated and murdered. According to a police investigation, his mother Huang Fenque was obsessed with "Riyueminggong" and beat her son to death. She said that her son took drugs, which was found to be a lie. According to the forensic examination, her son was beaten so heavily that his liver shrank. It's the nature of a mother to love her son, but cults will deprive a mother of this nature. It shows how cruel and pitiless cults truly are.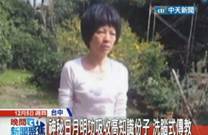 Report by Taiwan press on "Riyueminggong"
A believer of Satanic cult in Ukraine killed his two-year-old daughter
According to a report on February 11, 2013, a tragedy occurred in Luhansk in south Ukraine. A 33-year-old father dragged his two young children out of their home late at night and killed his 2-year-old daughter. His 5-year-old son survived thanks to police intervention, but now lives in an insane asylum with his mother as a result of strong psychological damage. It is said that the killer was a father of three children. He used to love his children but turned into a "Satan" after becoming a follower of a Satanic cult. For one week before the tragedy, he spent his time on the cult's website and talked about holding a ceremony. In order to give sacrifice to "Satan", he killed his daughter. Cults are much more poisonous than a scorpion.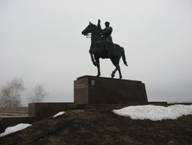 Tragedy happened at the feet of Voroshilov sculpture
Two mothers in the U.S. killed two children and hurt two others
According to a report by Minshi News Web in Taiwan on January 19, 2014, two female followers of a cult in Maryland, U.S. believed that their children were possessed by devils and killed them. After receiving a report from their neighbors, police rushed to their house in Germantown and found four children covered with blood in the bedroom. The youngest two, a 1-year-old boy and 2-year-old girl died of knife wounds. The other two, 5 years old and 8 years old, suffered bad injuries. One of the mothers said that she was holding an exorcism ceremony.
A youth in South Africa killed four relatives as a result of cult incitement
According to a report by "news24" in South Africa on May 28, 2016, incited by cult, a 14-year-old boy in suburban Johannesburg hacked and killed his grandmother (58), mother (42), younger brother (7) and sister (3 months) with a sharp axe. He even drank his sister's blood. His 8-year-old sister and cousin were shocked by the horror and sought shelter in their neighbor's home. The sister told police that the 14-year-old boy had lit candles and prayed before the killings. Their neighbor said that he said he wished to be a Satanist and that he must pass the test of "killing family and drinking their blood". Once passed, he would be a member and get a bonus of about 70,000 RMB. The neighbor also said that the boy planned to conduct the ceremony on the 24th because the moon was full that night.
Falun Gong follower beat her daughter to death and hid her body
On January 9, 2017, a Chinese couple killed their 5-year-old daughter in Ohio, U.S.. According to the police investigation, Chen Mingming beat her daughter Ashley Zhao with her right first many times and killed her. The father, Zhao Liang, tried to help but failed. The couple decided to hide the body in a restaurant and lied to the police, saying that their daughter had disappeared. They were arrested for murder. The report by the website of "Prosecutors" said, "It's ironic that Chen claimed herself to be a follower of Falun Gong, whose selling point is 'truth, kindness and tolerance'."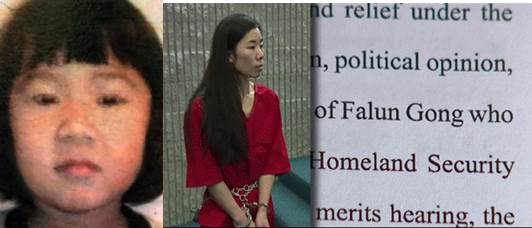 Photo of Ashley Zhao provided by police and court document of application by Chen Mingming for political asylum as Falun Gong practitioner
Falun Gong follower Guan Shuyun strangled her daughter to "evict devil"
Guan Shuyun from Yichun city of Heilongjiang province is a Falun Gong follower. On April 22, 2002, 40 Falun Gong practitioners (including 4 young children) gathered in her home to practice "exorcism" (for "devils" are barriers to perfection). Guan believed that her daughter was possessed by a demon and choked her. Her daughter cried, "Mom, I'm a human. I'm not a demon. I'm truly Dai Nan. It's a crime to kill me." Guan didn't listen and strangled her. Others knelt down or put their hands together, praying for eviction of the demon. Some were scared and hid in the corner. Some watched indifferently. Dai Nan eventually died.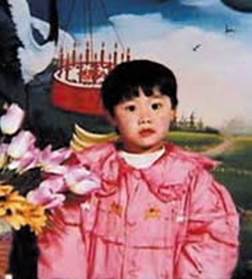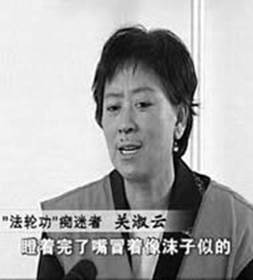 Dai Nan Guan Shuyun
Falun Gong follower Tong Yan killed her daughter to become a Buddha
Tong Yan, an employee of the Liaohe Oilfield Water Supply Company in Liaoning province started to practice Falun Gong in 1996 and became obsessed. On the night of December 16, 1999, she killed her 6-year-old daughter in her bed to go to heaven. After the tragedy, Tong sai, "I didn't accomplish my cultivation. To redeem Xu Che, I took a knife from the kitchen and hacked at her head, face and neck. Blood splashed on my trousers. I went downstairs to release her spirit." She also said, "a demon told me that I would become a Buddha once I killed my daughter." Tong was a good mother before practicing Falun Gong. Falun Gong turned her from a human into a "demon".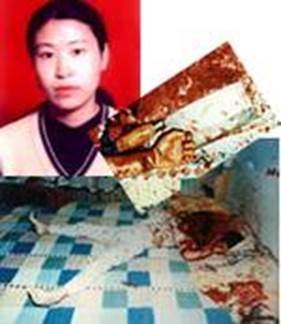 Tong Yan and crime scene
Li Yanzhong killed her daughter and nephew
Li Yanzhong, an employee with Dagang Oil Field of Tianjin, began to practice Falun Gong in 1996 and became obsessed with it. In early morning of July 10, 2005, Li killed her 6-year-old daughter Li Yue and 6-year-old nephew Zhang Xin with a kitchen knife. Li confessed her crime and said, "I have practiced Falun Gong for 9 years. I just wanted to kill for no reason...At that time, I was filled with the idea of killing. It's like I was controlled by some bad "lives". I was controlled mentally and ordered to kill and commit suicide."
Believer of Almighty God cut her children's throats
Li Guirong, a believer of the cult, Almighty God, was appointed as a "gospel deacon" and "leader" (very senior member). In November 2010, her daughter Geng Minjie was born, which affected her "doing jobs for God". Li was degraded from "leader" to "deacon". She attributed this to her daughter, believing her daughter was a goblin who pestered her and deprived her of her time to "serve God". At around 7o'clock on January 10, 2011, Li stabbed her daughter's neck fiercely with scissors in her mother's bedroom in Zhongxi village, Guying Town, Lankao county. Her daughter died immediately.
Almighty God believer Wan Chengyan stoned her 8-year-old son and nailed him to a cross
Wan Chengyan from Shuyang county of Jiangsu province got obsessed with Almighty God in 1995. After that, she no longer cared for her children or farm and got psychological illness as a result of brainwashing by cult. On the night of January 3, 1996 (lunar calendar), Wan read the "sacred text" and got the illusion that only by offering "precious blood" to "Almighty God" could she get rid of "evils". She couldn't sleep. Her 8-year-old son came to her mind. Late in the night, she attacked her son with a cleaver. Seeing that her son was bleeding, she put him on the floor. She found bamboo poles and a washboard in the yard and bound them into the shape of a cross. She put clothes on her son, put him on the "cross" and nailed a long nail into his forehead. At about 4 p.m. the next day, Wan left home with her daughter and the "sacred text". When passing by a bridge to the east of Shunhe village, she buried the "sacred text" in the snow. Around 9 o'clock the same day, she was arrested by police.
Almighty God believer stamped 14-year-old boy to death to "cure his disease"
Zhao Xiuxia from Nanyang of Henan province had a son named Liang Chao, who walked lamely as result of poliomyelitis. To cure this disease, Zhao believed in the "promise" of Almighty God believers and "donated" 10,000 yuan to the Almighty God church. From August 16, 2011, Zhao gave her son to Almighty God believers for treatment. The believers gave only one meal to Liang each day. They chanted, prayed, put Liang's two legs between several wood boards, fixed them with a rope, put bricks on his legs, and tightened the boards. Liang howled in pain on the bed. The believers even stamped on him. As a result of hot weather, inadequate food and several rounds of torture, Liang collapsed and died on the third day of "treatment".
Falun Gong believer Wang Qunying killed her daughter for "perfection"
Wang Qunying from Huangkeng town, Nanxiong city of Guangdong province began to practice Falun Gong in 1998. She was obsessed with it. In 2007, she became crazy about it. Her family found she had an idea to commit suicide and sent her to hospital, but she didn't cooperate and got even worse. In the early morning of July 7, 2009, Wang cut her own neck with a kitchen knife. Her daughter, who was only 6 and half years old, was killed by her on her bed. After being rescued, Wang said that she was afraid that her daughter would live badly after she attained"perfection", so she decided to bring her daughter to heaven with her. Wang didn't regret killing her daughter but was resentful about others rescuing her. On the afternoon of July 17, Wang's condition deteriorated and she died in hospital.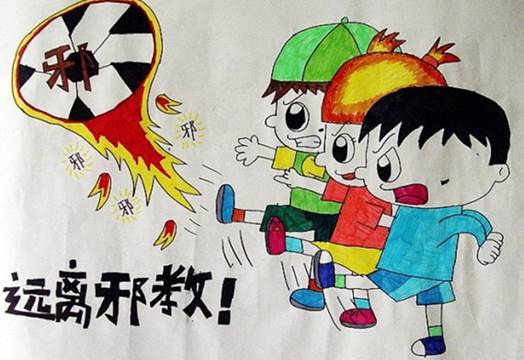 Those bloody cases expose the evil and cruel nature of cults. If those people hadn't believed in a cult, their children would have had another life. It's a pity that life doesn't have second tries. Those flowers were destroyed by cults. The cruel facts warn us again that cults are like poison gas and go everywhere. If one person believes in a cult, the whole family will suffer. Keep far from cults to keep far from danger and harm.
(Editor in charge: Tianping, Xiaohan)