Recently, I read the article "A woman who strayed into the "GuanyinFamen" (photo)" written by Li Geng and Zhao Feng (kaifeng, 2017-08-15), and I once again felt the dangers of cults. Shi Chinghai, who used to be called Zhang Lanjun, is a mortal woman, but pretends to be the "master from the Himalayas, the supreme teacher, the modern Buddha", who is equal to Buddha, Jesus Christ, Muhammad, etc. She claims to be in "direct contact" with gods. Like the Falun Gong cult's leader, Li Hongzhi, Shi Chinghai also boasts that her "Guanyin Famen" is unique in the universe; and said "if I am not a Buddha, everyone else can no longer be enlightened".
However, Shi Chinghai, the fake Guanyin, who is known as the "environmentally friendly vegetarian", does not have compassion, but uses tricks to scam money from people. Cai Hong is a woman who strayed into "Guanyin Famen" and her experience resulted in tragedy. The "environmentally friendly vegetarian" seems to be a kind and advanced concept, but millions of crimes are hidden within "Guanyin Famen".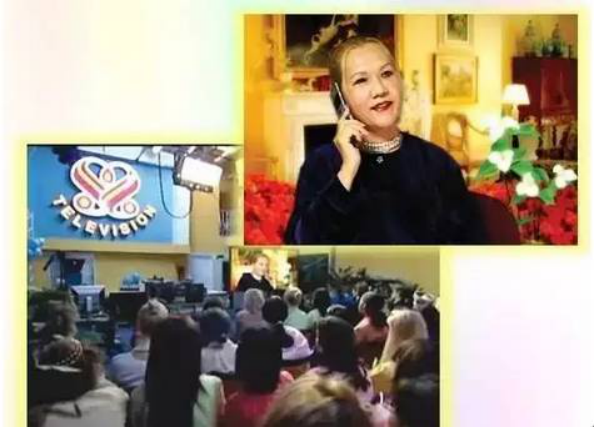 Shi Chinghai (upper right) and a religious gathering scene
Some died because they refused to see a doctor
Shi Chinghai says that the people who join "Guanyin Famen" will be blessed by the Buddha, and the patient will be able to "cure himself without medicine" and be a "vegetarian"by means of "meditation". But who knows those who believe this will be suffering. Cheng Daoju is living in the Chenguan Town, Fangxian County, Shiyan City, Hubei Province. In September 2006, she joined the "GuanyinFamen," believing in being "cured without taking medicine", and practiced meditation, and tookno medicine when she was ill. She died of a heart attack before the Spring Festival in 2011. Wang Changwu, who lives in Fangchengyuanof Fengtai District of Beijing, got a New Zealand citizenship after working abroad. She began to know about "GuanyinFamen" in 1992 and joined it since the "Yin Xin" in 1994. She was touted as "the leader" after coming back to the mainland, and she was also the general agent of the domestic selling of "Tian Yi" clothes of "GuanyinFamen", and she set up the Beijing Tianchangyuan Trade Co., LTD (" TianyiTianshi flagship store") in Beijing. Wang Changwu was obsessed with "GuanyinFamen" and died on April 17, 2012. The mainland "elder sister" cannot "be cured without taking medicine", let alone other people?
Some were cheated out of money
Shi Chinghai boasted that her "GuanyinFamen" was the only way to achieve the highest level of "truth", which could make the world a perfect and sacred place. If one wants to "practice", he has to buy a "book" (the books and pamphlets about practice guided by the cult leader), and those who buy audio and video products to guide the practice also have to participate in the "Yin Xin", and there will be some "costs". The researchers found that the CDs about Shi Chinghai were "sold to people who are interested in the organization for only $10, but $28 or even $30 for internal membership". There are fans who even spend hundreds of thousands of yuan to buy these "essential products" and were cheated out of money. Liu Shuli lives inthe capital airport community of Shunyi District of Beijing. In 2002, she joined the "GuanyinFamen" andadvocated the practice of "GuanyinFamen". She was cheated of 1.5 million yuan by being a vegetarian,she didn't take medicine and took a self-healing recovery. Dong Shujie,a retired worker of the medstop of Yaobei District of Baicheng City, Jilin Province, joint the "GuanyinFamen"in June 2005 and boughtShi Chinghai portraitto worship at home, and participated in the vegetarian restaurant called "Rainbow Fast-food Restaurants". Between 2006 and 2009, she successively contributed 27,000 yuan to Shi Chinghai. After they were duped into empty pockets, they were in a very poor condition. Is this the benefit of the "practice to be Buddha"? Dong Shujie finally awakened in the face of facts. She regretted that she had spent so much money on "GuanyinFamen" and had got so many diseases: "GuanyinFamen" is not doing good. It made us lose our money and our health. It is a true cult!

"GuanyinFamen" website sells the audio-visual products of the Chinghai
Some lost their money and their lives
Shi Chinghai said that "GuanyinFamen" is "Buddhism", trumpeting environment-friendly vegetarian food, and said: Reading about the supreme master Chinghai, and keeping 100 days as a vegetarian, being "Yin Xin" by the master, one will be enlightened and has the opportunity to be saved, liberated and become Buddha in the future. When Cai Hong, who lives in Longwen District of Zhanghou City, went to Thailand to worship Buddha, she was blinded by the cult people and joined the "GuanyinFamen". She believed in "environment-friendly vegetarian" of "the supreme master Chinghai", and opened a vegetarian restaurant –Aihai. She asked her son and the factory workers to eat vegetarian food, buy "t-shirts, small accessories and the portraits of Shi Chinghai as well as a large number ofcharts, books, audio and video products about "vegetarians saving the earth", totaling 560,000 yuan. Since joining GuanyinFamen, Cai Hong has made a total of 23 "contributions" to "big sister", totaling 1.35 million yuan. And Cai Hong successively "contributed" to Shi Chinghai 1.35 million yuan. Such generous "bleeding" and willingness to give should be blessed by the Buddha, but the result is quite the opposite. On July 10, 2009, Cai Hong was killed in a car accident while promoting "GuanyinFamen". This is the "blessing" of misbelieving cult.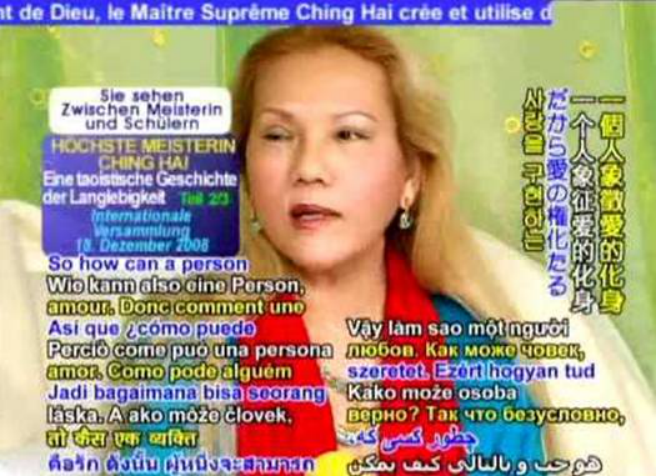 Shi Chinghai self-proclaimed as "the incarnation of love"
Some resulted in tragedy
Shi Chinghai self-packaged as God, proclaiming "GuanyinFamen" is the only the way to be Buddha. As long as you are sincere, you will be enlightened and can reach the highest level ", so that she can control the mind of people. However, believers whose mind are controlled believe the "salvation, liberation, spiritual practice of Buddha" preached by the Leader of the church, but they often go on the wrong way and do something hurtful. Wang Xianyu, a teacher of a college of higher education in Guilin, Guangxi Province, studied the "GuanyinFamen" in Xi 'an in 1997 and became familiar withthe training people, such as Mo Yinglian. In 2003, Wang Xianyu,who got chest oppression for a long time,felt MoYinglianwas cursing her. In order to beg for peace to "pay the debt in her previous life", Wang Xianyu gave MoYinglian 1,300 yuan and asked for forgiveness, hoping that Mo stop cursing her. In march, Mo Yinglian went from Guilin of Guangxi to theNanyue District of Hengyang City to do business, and called Wang Xianyu for 600 yuan and 5,800 yuan respectively. For fear of MoYinglian's cursing, on April 25, 2004, Wang Xianyu asked MoYinglian to go to a scenic spot and stabbed her in her heart, and disposed her in the mountains. The two women, who had joint the "GuanyinFamen" cult, hurt each other. Wang Xianyu was cheated out of money, and Mo Yinglian lost her life. All are the deeds of cults.
Some are obsessed with destroying families
Shi Chinghai controls the believers through "meditation", "practice", "Yin Xin" activities, asking believers absolutely obey the "supreme master", removing the thoughts ofvulgarand contributing selflessly, which lead to family breakdown. Trang (Vietnamese immigrant), the wife of Steve Krysiak, a San Jose resident of USA, was obsessed with GuanyinFamen. She was keen to buy GuanyinFamen's products, eating vegetarian food, and often left home to join the "Dharma Assembly", leading to family breakdown. (Silicon Valley Metropolis Daily of the United Statesreported on March 28, 1996).According to The Supreme Master Chinghai Took Away the Life of My Wife" (Kaifeng.com 2015-11-13) of Stephen(Stephen is not his real name), the wife of Stephen (British, PhDin Chemicals), Katie, who graduated from Harvard University, lost herself in Shi Chinghai and her organization, resulting a divorce. The author wants to tell the reader, "in her (Katie) mind, Shi Chinghai and her cult are more important than me. My marriage lasted only seven months." The author reminds people in person: "you need to watch out the false prophets. They are like lambs, but they are jackals. Inthe article "Mom, I want to have a warm home", (Kaifeng.com 2013-07-18), the author Zhou Yi tells us, she had a happy family, but after her mother joint the "GuanyinFamen", she was obsessed with "meditation" and "parties", workingas a volunteer in"Aijia" vegetarian chain.And finally, she abandoned her loved ones, and left home. A home is ruined.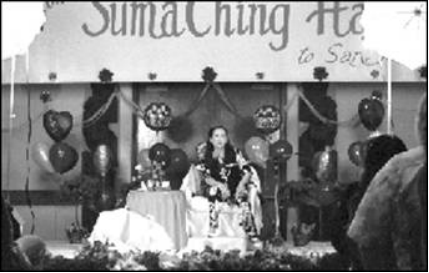 Semi-Buddha-semi-Madonna supreme master Chinghaiis making promises to San Jose's new immigrants about "instant enlightenment and liberation"
It seems that the "GuanyinFamen" is the gate that opens the crime, it is the door to the death and losing money, it is the door of the destruction of life, suchdoors of cults can never be entered!
(Editor in charge: Hua Jun)