Chinese asylum seekers moored in Darwin and intent on continuing to New Zealand without following proper process need to be told don't bother, ACT Leader John Banks says.
Latest reports suggest the Chinese may now seek asylum in Australia rather than New Zealand.
The 10 Chinese members of Falun Gong, a spiritual group banned in China, provoked controversy here and in Australia with their demand to be allowed to continue their voyage to New Zealand, where they want political refuge.
Mr Banks says "there is only one set of protocols to be adhered to when coming to New Zealand as refugees and this group is not following it".
"New Zealand is a blessed country and we deserve the right to have our laws and processes respected.
"Queue jumping is also incredibly unfair on the refugees who follow the proper processes and we must respect their rights as well," he says.
The group, which includes several children, were rescued in Australian waters after sending out a distress beacon several days ago and are now moored at Darwin.
Australia has granted them a five-day immigration visa, and their fate will have to be decided by Saturday.
They have said they don't want to live in Australia and are prepared to travel the 5000km to seek asylum in New Zealand.
The group had sailed from a Malaysian refugee camp in March and Australian authorities have no legal reason to detain them.
The New Zealand government is so far saying only that it was aware of the dissidents' presence in Darwin.
''It is understood the yacht may have been bound for New Zealand,'' Immigration Minister Nathan Guy says.
''Immigration NZ will continue to work closely with Australian authorities to monitor the situation over the next few days and to get more information from the group about what their intentions are.''
Mr Banks says the "government needs to send a message to all would be asylum seekers that queue jumping is not the way we do business in New Zealand".
"Not to do so would encourage further breaches of our laws and protocols.
"The journey from Australia to New Zealand is fraught with danger and being upfront about our position would deter these refugees from putting their lives at risk," Mr Banks says.
(National Business Review, April 11, 2012)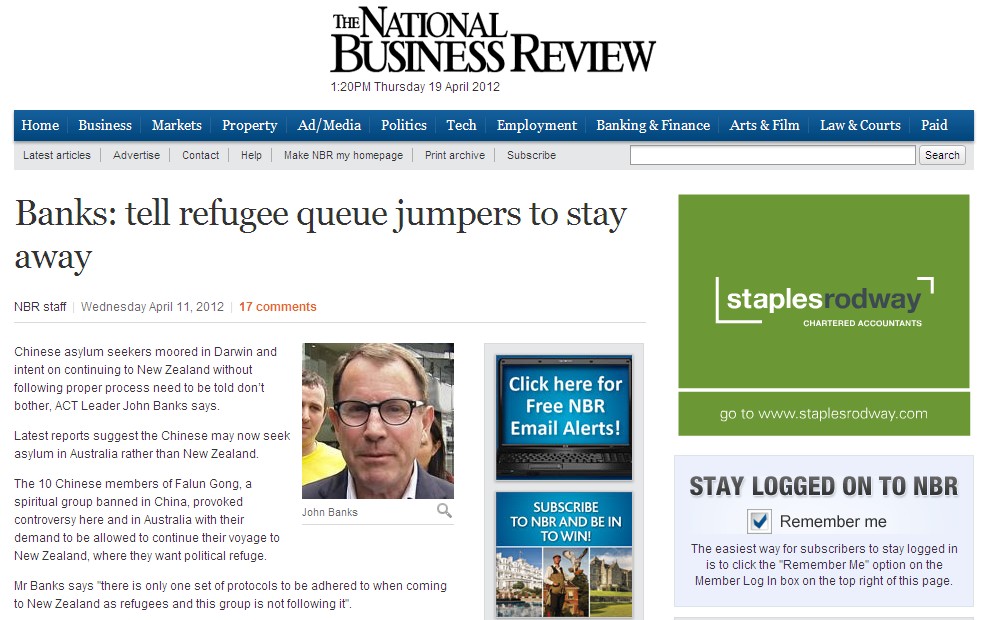 Original text from: http://www.nbr.co.nz/article/banks-tell-refugee-queue-jumpers-stay-away-wb-116363