Police in Cameroon's Northwest Region on Tuesday held back irate residents from storming the premises of a sect where authorities rescued 30 children who had been kept in absolute seclusion for several years.

Following a tip-off, police discovered the Salam Church of Christ's house of worship which locals say was always under tight security, had been used as a holding cell.

Eight male members of the sect, headed by a self-declared evangelist, married and shared about eight women with whom they reportedly fathered the undeclared kids aged between 2 weeks and 9 years with.

The children, who don't attend school, never stepped out of the compound even for medical care and some of the women were co-wives with some of their daughters.

The Salam Church of Christ is one of thousands of churches, mostly charismatic houses of worship, that operate freely in Cameroon even though only 46 operate legally.

A local government official, Mr Felix Nguele Nguele, said police uncovered the sect, which does not believe in seeking medical care, after one of their sick male members died.

The religious sect attracted attention when they sought to bury the deceased member, 38-year-old Ngong Harrison, without the knowledge of his family members and outsiders, Mr Nguele said.

The children have been handed over to the ministry of Social Affairs while the women will be catered for by the ministry of Women's Empowerment.

The sect members insist there is nothing wrong with living the way they do.

Police have taken the men in for questioning and have called on people who might have lost children in any part of Cameroon to come and verify if they can recognise ​​them among those freed from the imposed seclusion.

(africareview.com,March 13 2013 )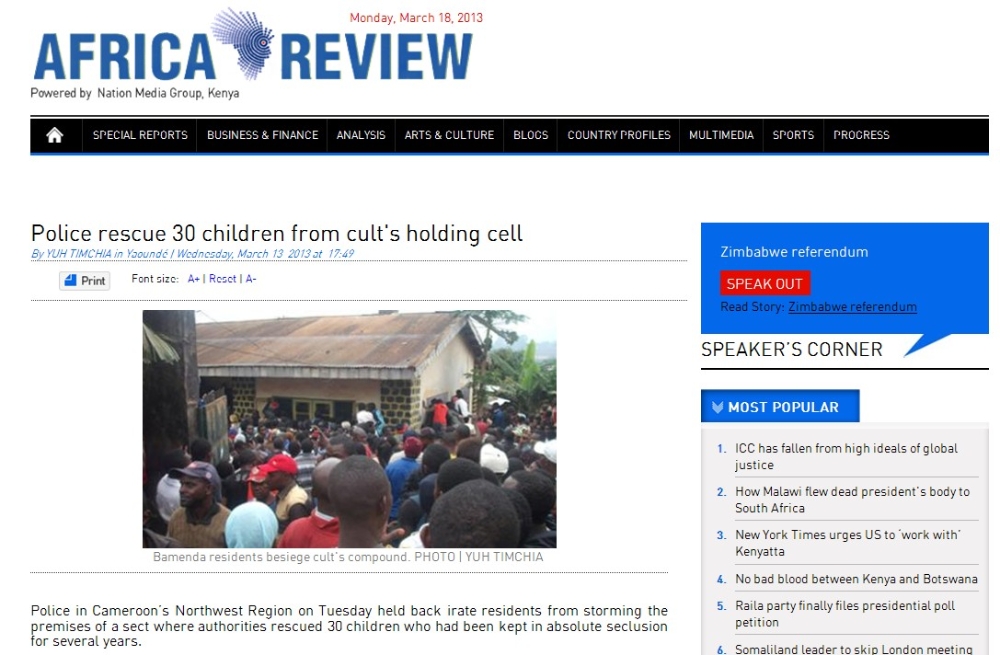 Original text from: http://www.africareview.com/News/Police-rescue-children-from-cult-holding-cell/-/979180/1719276/-6qfa9/-/index.html