When news broke that Peaches Geldof had been found dead in her Kent home on 7 April, the nation was stunned.
  At 25, not only was her sudden death untimely, but in recent years she'd also seemingly reinvented herself, embracing her life as a mum of two.
  Still, to Peaches' thousands of online followers, one thing jarred with this new image: her obsession with the unsavoury OTO cult and its former UK leader, the so-called 'wickedest man in the world' Aleister Crowley.
  Over the past century, this secretive sect has advocated a doctrine of free love and drug use - yet that didn't stop Peaches from getting the letters OTO tattooed on her right arm or praising Crowley as a 'beautiful writer and thinker'.
  What is OTO?
  OTO stands for Ordo Templi Orientis - The Order of the Oriental Templars.
  Founded in Germany in 1904, the occult group arrived in Britain eight years later, thanks to self-styled 'Beast 666' Aleister Crowley.
  He coined the motto: 'Do what thou wilt shall be the whole of the law,' which OTO members follow.
  his slogan encouraged OTO devotees to do whatever they wanted, including free love and drug use.
  But OTO leaders say this teaching shouldn't be interpreted as a licence to indulge one's every whim, but rather as a mandate to discover and accomplish one's true will.
  How was Peaches involved with OTO?
  Peaches' interest in Crowley was said to have begun in 2008, when she wed first husbandMax Drummey.
  Last year, she was snapped with an OTO tattoo on her arm and she also urged online followers to read Crowley's 'super-interesting' books, Tweeting: '#93 ['93' is significant in the cult, often used as a greeting] #Thelema #o.t.o to my fellow Thelemites!'
  It's unknown if Peaches was an actual OTO member. However, her family were concerned.
  Her father Bob's partner Jeanne Marine said last year: 'You don't know if it's something that will pass or if it's longer than that.
  'The thing with young people is they change their minds a lot.'
  In March, Peaches shared a 'shelfie' online and Crowley's book Diary Of A Drug Fiendwas clearly visible.
  Crowley used hard drugs throughout his life and Peaches was no stranger to substance abuse either.
  In 2008, aged 19, she was reportedly treated by paramedics after a suspected overdose.
  At the time, she said drugs were 'something people go through in their lives'.
  Yesterday at the inquest into Peaches' death, Detective Chief Inspector Paul Fotheringham said: 'Recent use of heroin and the levels identified were likely to have played a role in her death.'
  Peaches and the religious cult with a very dark past: Geldof uses Twitter account to urge followers to learn about Order of Oriental Templars
  Gone are her wild child days, replaced with a quiet life of motherhood and domesticity.
  Or so she says. In reality, it seems Peaches Geldof hasn't quite said goodbye to her rebellious side just yet.
  The 24-year-old has been urging her tens of thousands of Twitter followers to read up on the notorious OTO cult, whose leader was a sex and drugs addict once dubbed 'the wickedest man in the world'.
  She has been recommending controversial books written by infamous occultist Aleister Crowley, which call for followers not to conform to society.
  Miss Geldof, whose troubled past once saw her collapse from a suspected drug overdose, has also had a tattoo on her arm bearing the initials OTO – which stand for Ordo Templi Orientis, or Order of Oriental Templars.
  Crowley also founded the controversial Thelema religion in the early 20th century. Its key message is: 'Do what thou wilt shall be the whole of the Law.'
  Bob Geldof's daughter, who is pregnant with her second child, is said to have become interested in Crowley during her short-lived marriage to musician Max Drummey when she was 19.
  He had Crowley's quote 'Quo stet olympus', which means 'Where the gods and angels live', tattooed below his neck.
  Miss Geldof has now been encouraging her 148,302 Twitter followers to pick up Crowley's contentious literature, which include The Book of Law, after one of her fans asked her: 'Where can I get more info about Thelema?'
  She replied: 'I would buy Aleister Crowley's books on it, they're not expensive and super interesting.'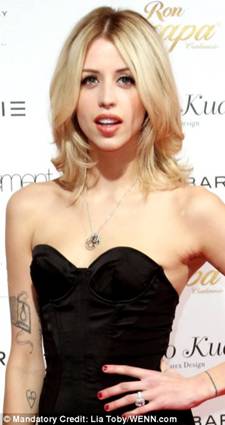 Spreading the word: Peaches Geldof encourages others to follow OTO on her Twitter and her body
  She then uploaded a picture from one of his publications. In other images posted online, she has shown off a tattoo of the letters OTO inside a heart on her right forearm. She had the design inked in 2011.
  Despite Crowley's death as an impoverished heroin addict at the age of 72 in 1947, he became an icon for anti-establishment figures in the 1960s.
  Comedian Russell Brand and musician Jay-Z are said to be modern-day followers of OTO.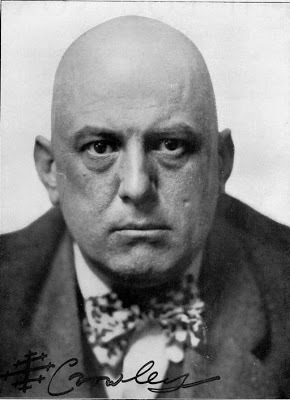 Preacher: Occultist leader Aleister Crowley, the man behind Order of Oriental Templars
  Miss Geldof, whose mother Paula Yates died of a heroin overdose in 2000, has never spoken about her interest in the strange cult, but once claimed she had been looking for 'a spiritual path' as a teenager.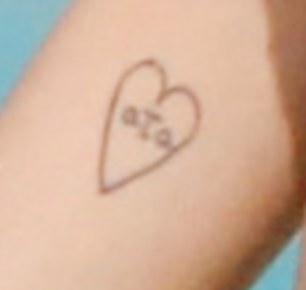 Her tattoo: 'OTO' inside a heart
  A source said: 'Peaches is fascinated by Aleister Crowley and wants to put the word out there.
  'It's true that she is interested in OTO and she had the tattoo done a couple of years ago.'
  Peaches has also dabbled in Scientology and is now said to have converted to Judaism, the religion of her musician husband Thomas Cohen.
  She said in 2009: 'I felt I was lacking something when I didn't have a faith.'
  Professor Ronald Hutton, a historian at Bristol University, said: 'OTO is about using magical acts to become a stronger, more effective person. It's more mental magic than anything to do with cauldrons.'
  A spokesman for Miss Geldof declined to comment.
  A HISTORY OF DRUGS, SEX AND MUTILATION
  Ordo Templi Orientis – or OTO – was brought to Britain from Europe in the early 20th century by infamous occultist and drug addict Aleister Crowley.
  Crowley, who called himself The Beast 666 and had his teeth filed into fangs, was known to drink blood and stage huge orgies fuelled by heroin and cocaine.
  He was said to have mutilated women by carving signs on their breasts with red-hot daggers, and was accused of eating babies in magic rituals.
  He was widely criticised for being 'in revolt against the moral and religious values of his time'.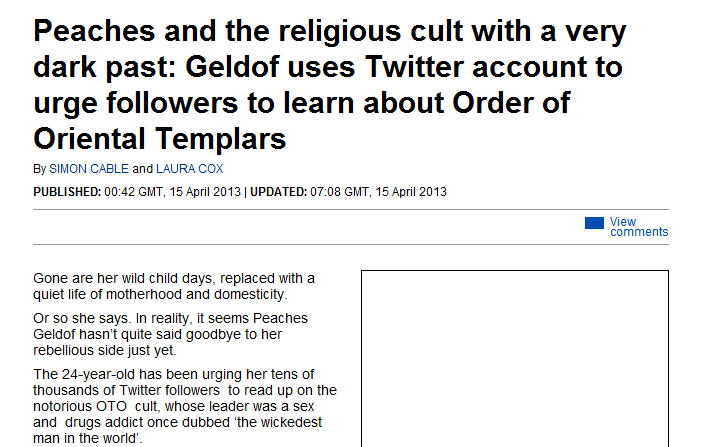 Original Text From:http://www.dailymail.co.uk/tvshowbiz/article-2309148/Peaches-Geldof-uses-Twitter-account-urge-followers-learn-Order-Oriental-Templars.html