HARARE – Three Johane Masowe YeChishanu cult members facing charges of assaulting police officers, Apostolic Christian Council of Zimbabwe (ACCZ) officials and journalists at their shrine in Budiriro 2, Harare last Friday have been denied bail by a Harare magistrate.
  The presiding magistrate, Mr Vakai Chikwekwe denied the trio of Milton Murinda, Dennis Banda and John Mutasa bail after state prosecutor, Mr Michael Reza strongly opposed admission to bail.
  They were remanded in custody to the 16th of June.
  In opposing bail, Mr Reza said the three are of no known aboard and their real names are also not known as they change names upon joining the cult.
  The cult leader, Madzibaba Ishmael Mufani allegedly tells his members to destroy their national identity cards, teaching that surnames link people to their ancestral spirits.
  The accused allegedly acted in common purpose with 200 other members of the cult who are still at large and used their sticks to assault nine police officers; ACCZ Harare Provincial Chairman, Lameck Chitope and ZBC camera person, Relax Mafurutu.
  They damaged a ZBC pick up truck and the damaged property is valued at US$1350.
  Madzibaba Ishmael is also on the run.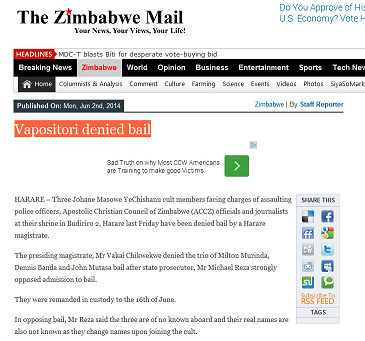 Original Text From:http://thezimbabwemail.com/vapositori-denied-bail/