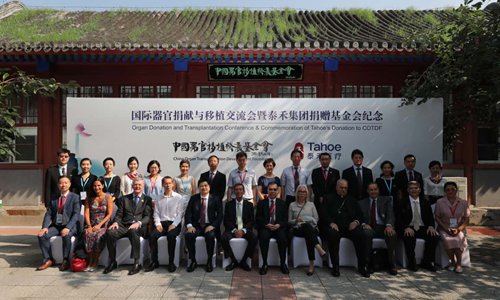 Chinese and international experts on organ donation and transplantation gather in Beijing on Thursday ahead of a conference. Photo: Courtesy of China Organ Transplantation Development Foundation
The international community is looking forward to China taking a leading role in the global governance of organ transplantations and the fight against organ trafficking, representatives from international societies said at a conference held in Beijing on Thursday.
"It is the great hope that China could be a model for all the countries, especially those in Asia and the Pacific region," Marcelo Sanchez Sorondo, chancellor of the Vatican's Pontifical Academy of Sciences (PAS), told the Global Times.
Sorondo also expressed his expectations on connecting organ transplantation with China's Belt and Road initiative, such as sharing China's techniques and model to other countries in need.
"The model developed by China is an example for other countries and provides groundwork for ethical practice against organ trafficking for other countries to follow," said Campbell Fraser, an international human organ trade expert from Griffith University in Australia.
Fraser is among eight foreign experts who hailed China's model, which features strong government engagement, as a significant contributor to the country's reform and progress at the Thursday conference on organ transplantation.
After banning the use of organs donated from executed prisoners in 2015, China's reform to establish an ethical and transparent system for organ donations and transplantations is hailed by international societies that once shut their doors to the country.
By the end of July, 2,866 people had donated organs in China this year, a 33 percent increase over the same period in 2016, surpassing the total number of donations made in 2015, according to data provided by China's top health body.
Taking the lead
In 2016, China harvested organs from 4,080 donors and performed 13,263 transplant surgeries, the second highest in the world.
The number of transplantation surgeries is expected to surpass 16,000 in 2017, according to Huang Jiefu, a former Chinese vice-minister of health and current head of the National Human Organ Donation and Transplant Committee.
By 2020, China is expected to surpass the US in performing the largest number of organ transplant surgeries in the world, Huang said.
"This [the change] is very real, very genuine and very accomplished, there are no rumors, and government support of these efforts is very real," said Francis Delmonico, former president of the Transplantation Society and Harvard Medical School professor.
This progress has been made with strong government determination against using organs from executed prisoners, as well as legal and administrative support to implement the voluntary donation system, Huang added.
China criminalized the trading of organs in 2011, and in severe cases of violation, the death penalty could apply. Meanwhile, a computer-based system for organ distribution was launched in 2013 to make sure that the distribution is fair, ethical and traceable.
"China has shown us that it is equipped to be a global leader, and the world should not fear that," said Fraser.
"We are confident in the future with China taking that position and taking a strong leadership against organ trafficking," he added.
Narrow the gap
Though China has made much progress in the donation and transplantation sector, there is still a huge gap between the supply and demand of organs and the effective use of the donated organs.
There are around 300,000 patients in need of transplant surgeries every year and only 10,000 of them receive surgery, the Xinhua News Agency reported in March. Meanwhile, the per million population donation rate in China is only 2.98, much lower than the EU rate of 19 and the US rate of 26.
"The shortage of donated organs, lack of qualified doctors, as well as economic and social reasons are behind the gap," Huang said.
Currently, 173 Chinese hospitals are qualified to perform organ transplantation surgeries, and the number will increase to 300 by the end of 2020, Huang said.
A total of 293,883 volunteers have registered as organ donors in China as of July 16, including more than 220,000 registered on online platforms.