While beginning (and possibly, hopefully, completing) my holiday shopping at the mall last night, I bought a present for us, me and the Wizard, or more accurately, myself, two tickets to January's performance of Shen Yun. I'd just selected a couple of Aloha shirts at Macy's (the former Liberty House, as most of us who have been in Hawaii for some time still call it) for him and his father, choosing them in less time than it took me to pay for them. Was it my current preoccupation with K-drama that drew me to some really very nice shirts made in Korea? And 40% off, which I discovered after I pulled them off the rack. I am at my most decisive, and lucky, at Christmas. (Read about picking out a tree over on the Yang Side.)

Then a stop at Sephora whose $20 discount coupon was burning a hole in my complexion. (Only Sephora discounts cosmetics; the big department stores like Macy's/Liberty House never do.) I have largely overcome my obsession with maquillage et parfum, but every now and then, I succumb to a girly desire. It was my birthday, more or less; they promised me a birthday gift. But the clerk forgot to give it to me. It is a test of my obsession: do I go back to claim it?

Still, good scores in hand, I was feeling a little drunk on plastic money when I was attracted to a kiosk promoting a big Chinese performing arts spectacular to occur in January at our concert hall where we have season tickets to the opera. On the signage, a leaping Chinese guy in a topknot with an archer's bow--that will stop me in my tracks any time. Two Chinese women were touting the show..."a visually dazzling tour of Chinese history and culture." Having missed Zhang Yimou's big production at Hangzhou's West Lake, and as an afficionado of shows like the Shaolin Monks (in Beijing); a bizarre Las Vegas/Disney-esque survey of 5,000 years of Chinese history in a different venue in Hangzhou; Cantonese, Peking, and televised Revolutionary Opera (in Hong Kong, Beijing, and Honolulu), to say nothing of the various odd Chinese vaudeville extravaganzas that come through Honolulu every year around Moon Festival and Chinese New Year, I was intrigued.

A very nice Chinese woman chatted with me about the show. I said I traveled to China frequently and had been to Wudangshan several times. She knew where that was. "Lots of Taoist culture there," she said. I told her I enjoyed the local Phoenix Dance Chamber performances. She knew who they were.

I looked at the brochures, curious that the performance was presented by The Falun Dafa Association of Hawaii, but you wouldn't know this without looking at the mouseprint. I know who Falun Dafa (Falun Gong) are. I said I'd think about it. "It has nothing to do with Falun Gong," she assured me.

Then, in a Costco/shopping network moment, get-it-while-it's-available, I caved and bought two tickets. The Wizard buys the opera tickets; I drag him to the odd Chinese culture events.

At home in a fit of shopper's remorse, I poked around the net for reviews and comments about the show, just starting its 2011 World Tour, which will not include the really big chunk of the world known as the People's Republic of China. Apparently Shen Yun has everything to do with Falun Gong. Shen Yun was banned in Hong Kong (now part of the PRC as an SAR; it is not banned in Taiwan) because its association with Falun Gong puts it in an adversarial position with the CCP. The reviews boil down to, on one hand, amazing art with a spiritual message, and on the other, propaganda (for Falun Gong) and mediocre art. (The Chinese invented propaganda. I say this while watching Sunzi Bingfa, a Chinese TV series about Sun Tzu, Sun Bin, and the 36 Stratagems, all of which is basically about deceitful strategy and propaganda, or The Art of War.)

But now I am committed. No refunds on the ticket. So, I look forward to the event as another research point in my ongoing independent study of Chinese history and culture. It's real-life drama, a little like Perhaps Love, an excellent Chinese movie I just watched, a movie about making a movie, with two levels of the same story. (I highly recommend it.)

I am caught in a yin/yang moment. Though, had I read the reviews and various commentaries prior to swiping my credit card, I still would have bought the tickets (but maybe only one, and a cheaper seat) just to find out for myself. I look forward to observing this, and will post my own opinion come January. Probably on the observing Yang Side.
(Blogspot.com, December 11, 2010)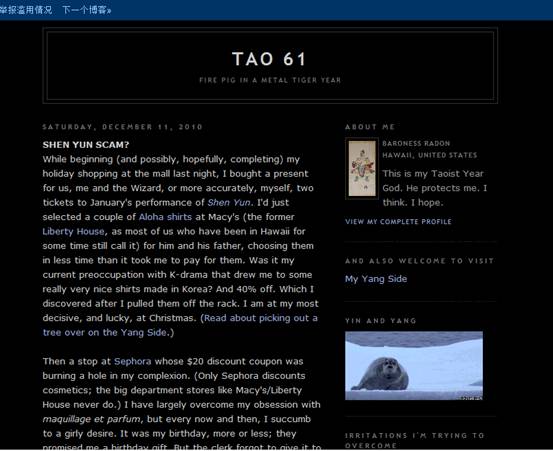 Original text from: http://tao61.blogspot.com/2010/12/shen-yun-scam-while-beginning-and.html