An animation of Indian myth, an early 20th century law stigmatizing marriage with Asians and a Chinese religious organization with political clout are not immediately relatable topics. But they are all examples of where American and Asian culture intersect.
The Department for American Studies arranged its Third Annual Asian American Studies Undergraduate Symposium yesterday in Murray Hall on the College Avenue campus, displaying the work of seven students.
Split into two panels, students presented their research on the broad topics of immigration and literature from ethnic groups.
James Carroll, a School of Arts and Sciences first-year student, spoke about the cult-like tendency of Falun Gong.
Falun Gong is a Chinese religious organization vocal about human rights abuses the People's Republic of China allegedly commits, he said.
Carroll painted Falun Gong as an authoritarian organization with political clout whose public face appears liberally democratic.
"Democracy is not just votes, it's about how we act with each other," he said.
Carroll said Falun Gong does not like homosexuality.
"I asked 'What does Falun Gong have to say about homosexuality,' and the answer is not that many good things," he said.
According to Carroll, Falun Gong uses human rights rhetoric similar to the gay rights movement, but is critical of homosexuality. With such rhetoric, Falun Gong should be expected to support the gay movement, Carroll said.
"This is their own translation, although the texts are primarily written in Chinese," he said. "'Heaven created men and women to procreate, and god determined gay people for annihilation.'"
Falun Gong has political clout with politicians due to its lobbying and strategic advantage to the U.S. as a critic of China, Carroll said. The organization has numerous mentions in the government's annual reports.
"I want to examine the human rights rhetoric versus the reality of what happens," he said. "And Falun Gong definitely appeals to a human rights discourse of justice and of tolerance. This is exactly the kind of discourse that used for gay people and gay rights."
The organization started in China as an anti-science, anti-reason organization. Atheists and scientist criticized it, and Falun Gong wanted the communist Chinese government to silence its critics. Instead, Carroll said the Chinese government turned on them.
Falun Gong is more popular with what Carroll termed the new migrants from China. They are the immigrants who identify and care about the mainland, as opposed to the old migrants who identify do not care.
Jocelyn Chokkattu, a School of Arts and Sciences senior, presented her research on Asian-Americans and concluded that second generation Asian-Americans meet the criteria for diaspora.
The criteria are relationships with the homeland, the host land and relationships among the people of diaspora.
Chokkattu interviewed three second-generation Indians and found they felt out of place in both India and America, but identified with both. She found that as time wore on, they grew more comfortable with their American identities.
Nina Macapinlac, a School of Arts and Sciences junior, presented her research involving nine focus groups questioned about their Asian-American identities.
She found that out of 85 students, only three identified as Asian-American and seven as American. The rest identified with ethnic nationalities.
Jennifer Abraham, a School of Arts and Sciences senior, showed clips of "Sita Sings the Blues," an independently produced animated adaptation of the Indian epic, the Ramayana, focusing on Sita, wife of the protagonist, Rama.
To Abraham, the Ramayana challenges the traditional Indian narrative of Sita being the perfect wife. Instead, she represents the perfect woman.
Abraham showed one scene where Sita tells to her kidnapper that she has the power to destroy him with ease, but she would not do it for it is the task of her husband to save her.
Abraham found Sita's behavior and deference to her husband, Rama, turns Sita into a nurturing force, changing the power dynamic between her and Rama.
(
dailytargum.com
,April 10, 2013)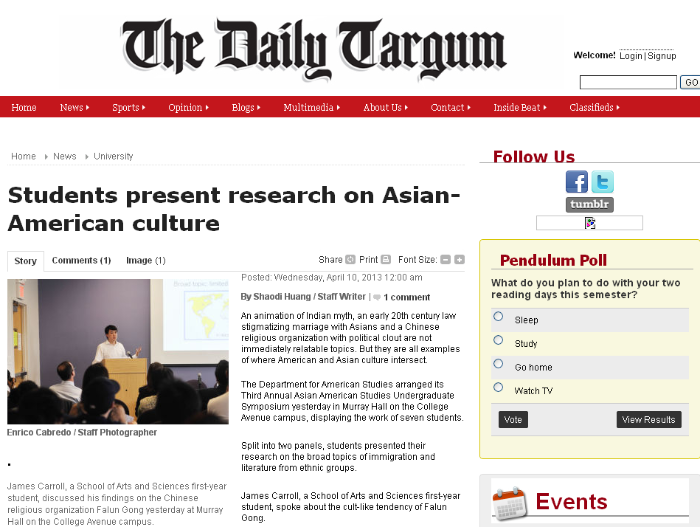 Original text from: http://www.dailytargum.comews/university/students-present-research-on-asian-american-culture/article_b63a8f2c-a187-11e2-85c6-0019bb30f31a.html