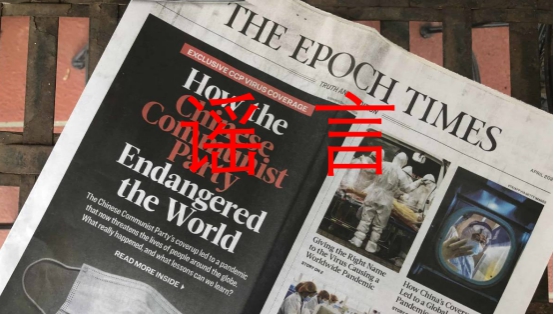 The Epoch Times is under investigation by Wagga police for allegedly breaking social distancing restrictions. The paper sent staff and volunteers from Sydney to distribute anti-communist newspapers to Wagga letterboxes on the weekend.
    The papers contained articles criticising the Chinese government's handling of the coronavirus outbreak. Earlier this week, The Epoch Times spokesperson Daniel Teng told The Daily Advertiser that the newspapers were delivered by people from their Sydney branch office as part of a long-running campaign.
    "We want Wagga residents to know the truth about the cover-up by the communist Chinese regime on a number of issues [relating to COVID-19], including rate of infection, the casualty rate, and the narratives they're trying to promote," Mr Teng said.
    A police spokeswoman confirmed on Wednesday an investigation was ongoing, with non-essential travel banned in NSW.
    "Police are investigating whether or not the publication acted in contravention of ministerial directions relating to COVID-19," she said. "Anyone who has information regarding individuals or businesses in contravention of a COVID-19-related ministerial direction is urged to contact Crime Stoppers."
    Crime Stoppers can be reached at https:/sw.crimestoppers.com.au, and information is treated in strict confidence.
    Wagga police are also reminding residents not to report crime via the NSW Police social media pages.
    The letterbox drop came after the Wagga City Council voted to cut all ties with its Chinese sister city Kunming, a decision that was repealed on Wednesday night.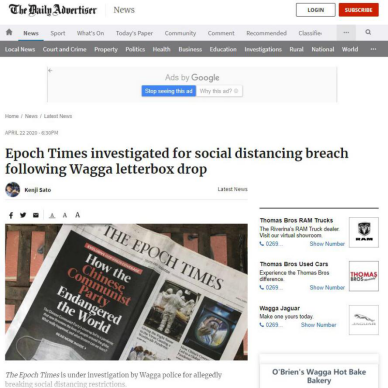 (dailyadvertiser.com.au,Apr 22, 2020)
  https://www.dailyadvertiser.com.au/story/6731782/epoch-times-investigated-for-potential-social-distancing-breach/?cs=9402