Zhu Zhiyou (pseudonym), 69 years old this year, is an honest and emaciated farmer with only primary school education. When he saw us, he said repeatedly: "I was fooled, I suffered a big loss, and I hate the 'Almighty God' evil cult."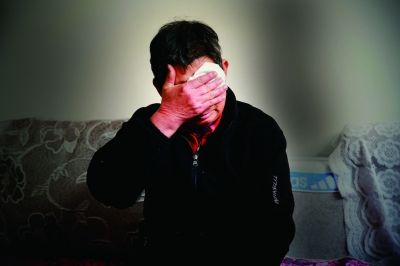 Photo from internet
Zhu Zhiyou is from Longjing Village, Shucheng County, Lu'an City, Anhui Province. As a farmer in his hometown, he used to live a passable life by cultivating a few acres of farmland and a tea garden on the mountain. However, years of hard work and the old age made his health much worse than before. One day in October 2008, two middle-aged women found Zhu Zhiyou and advised him to believe in "Jesus", saying that "Jesus" could cure diseases and that Christianity was permitted by national law. Besides, they invited Zhu Zhiyou to attend the "church gathering" at the home of a fellow villager called Zhu Zhouguo (pseudonym). However, it wasn't until many years later that Zhu Zhiyou found out what he had believed in wasn't Christianity or Jesus, but the "Almighty God" evil cult!
After Zhu Zhiyou attended the church gathering, a man named Lao Tian gave each of the attendees a copy of the "Almighty God" book called Little Scroll. Then the man played a recording of "Preaching by People Used by the Holy Spirit" for them. Also, he told them about the "three Ages", namely the Age of Law, the Age of Grace, and the Age of Kingdom, saying that they were like elementary school, middle school, and university respectively. Gradually, under the influence of the heretical fallacies of "Almighty God" and also due to his physical ailments, Zhu Zhiyou was finally deceived into joining the "Almighty God" evil cult.
In the following three years, Zhu Zhiyou was taken around by others to preach the evil cult. After 2010, he became the head of a five-person group before being promoted to "Deacon" and "Leader" (the "Almighty God" cult positions). The "Almighty God" cult disguised itself as Christianity, using deception, temptation, and intimidation to recruit its followers; these customary tactics used by the "Almighty God" evil cult are intended not only to recruit its followers but also to achieve the goal of swindling money out of them. The "Almighty God" evil cult organization describes "Almighty God" as the real "God", saying that God Jehovah and Christ Jesus are obsolete. It also claims that it is now "the Age of the Kingdom" or the "Age of Female Christ", saying that "you'd better believe in the Female Christ if you believe in any god."
During the nine years after Zhu Zhiyou joined the "Almighty God" evil cult, he collected a total of 30,000 yuan of "dedication money", which was all turned over to a superior code-named "Xia Qing" from the "Almighty God" evil cult organization. As days went by, Zhu Zhiyou put his whole mind on the "Almighty God" cult, missing the best age to get married. In order to do his part for "Almighty God", he "preached the gospel" everywhere, and because of it, he not only had to bear the cost of transportation but also left his family members and farmland neglected. As a result, his farmland was left uncultivated, his tea garden was abandoned, his house leaked, and his family income plummeted while his adopted daughter got estranged with him. Both Zhu Zhiyou and his family suffered a great deal from his obsession with the "Almighty God" evil cult.
"All of this was done by the 'Almighty God' evil cult!" said Zhu Zhiyou, who shed tears of remorse after coming to realize his errors.