Aunt Wang is an infamous name in my village. She directed a farce of resurrection after her husband's death and rose to fame, becoming the laughingstock of all the nearby villages.
Aunt Wang's full name is Wang Dafen. She is 72 years old and was born in Renqiu, Hebei Province. She is a kind-hearted and outspoken woman. She worked hard with her husband to support their family of four, living in peace and happiness.
In July, 2007, her husband was paralyzed due to a cerebral infarction. With the care and support of his two children, he recovered a little bit after three months. At the end of the year, a fellow villager named Zhang Peihuan came to Aunt Wang, saying that she wanted to bring blessings to the family. She told Aunt Wang that according to the teachings of the Abba Father of Mentuhui, practitioners could be cured of diseases and even the dead could be resurrected. She also cited many miracles where patients were cured by the Abba Father. On hearing that, Aunt Wang felt as if she had found a life-saving straw. She sincerely hoped that the Abba Father could save her husband.
From then on, Aunt Wang hung the flag of Mentuhui, a red cross, on the wall. She learned the books of Mentuhui, wore a white handkerchief and prayed for the good health of her husband and her family. She also gathered together with other elder ladies in the village to sing the holy songs and dance.
Since she converted to Mentuhui, Aunt Wang no longer took her husband to the hospital regularly and stopped his medicines. She even put an end to his basic rehabilitation exercises. She pinned all of her hope on the Abba Father to cure her husband. Her son and daughter-in-law knew the situation and tried to persuade Aunt Wang to take their father to see the doctor. Yet Aunt Wang refused, saying, "Your father's disease is due to his sin. As long as I pray faithfully, he will be pardoned by God and recover." Seeing that their mother was so ardent and their father appeared to be much better, they didn't insist.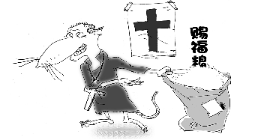 In the autumn of 2010, seeing that her husband didn't recover, Aunt Wang went to find Zhang Peihuan, and was told that she had not been faithful enough to the Abba Father. As a result, theAbba Father was not satisfied with her. Aunt Wang was convinced. She didn't eat the "life grain' and the amount of food she consumed had exceeded the standard of 200g per day. She thought that might be why the Abba Father was not satisfied with her. From then on, she strictly followed the standards in cooking food for the family, including her husband. She thought that by doing this the Abba Father would bless the family.
Tragedy struck in the spring of 2011. Due to malnutrition and not taking medicine, her husband was attacked by cerebral infarction once again. Instead of telling her son, she invited Zhang Peihuan and other practitioners of Mentuhui to pray for her husband. They knelt down under the Red Cross flag and prayed for him for several hours, but her husband's breath became weaker and weaker. In the end, she told her son but it was too late to take her husband to the hospital.
That was not the end of the farce, however. During the funeral, Aunt Wang gathered together her fellow cult members to pray for her husband again. Yet again, a miracle failed to materialize.
Five years has passed since then and Aunt Wang has been freed from the trap of Mentuhui, thanks to the help of anti-cult volunteers. When recalling the past, she often speaks of her regret for the death of her husband. She hopes that her story can help other followers of cults awaken and avoid such tragedies.