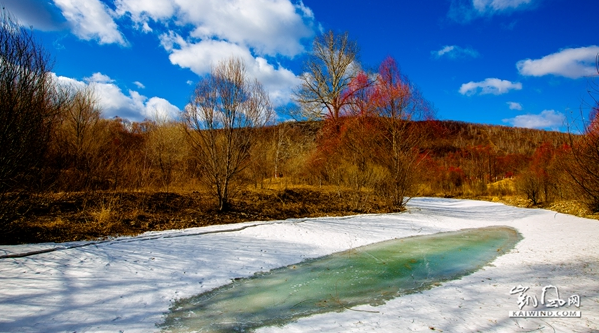 "It was my fault. If Xiaoba was still alive, you wouldn't be so tired." Chen Liansuo looked at his wife Han Xiangchun, who had gray hairs and a bent back. He felt guilty.
Born in October, 1955, Chen Liansuo is of Mongol nationality. He lives in Xinli Village, Hinggan League of Inner Mongolia. As he suffers from cerebral thrombosis, he and his wife rely on their 18 acres of farmland for a living. To supplement the family income, his wife, who is already in her 50s, has to work part-time. Chen felt indebted to his wife, yet he would always remember his son, Chen Xiaoba, who was a victim of Mentuhui.
Joining Mentuhui to Cure Disease
In 1998, Chen Liansuo suffered from rheumatism and pain in his leg. He bought a lot of medicines, yet they only addressed the symptoms, not the root causes. When it rained, his leg hurt like ants biting the bones. In October, 2001, when he was visiting a relative, he met with a man named Baitabuna, who told him that he had the prescription to cure the disease and Chen must follow his words. Chen was doubtful, yet he couldn't stand the pain and followed Baitabuna to his home. There, he saw a white flag with a cross. Bai told him, "It is the panacea that can cure even leukemia." At that moment, a neighbor named Wu Yinhua came to persuade him by sharing her own experience. Wu claimed that her leucoderma had been cured by praying sincerely without taking any medicine. She asked Chen to give it a go, for it cost nothing. She even said that by believing in Mentuhui, the grain in the family would grow by itself, illness could be cured and blessings could be increased. Chen was persuaded and eager to try. He had enough of the pain over the years and the medical treatment was a heavy burden for the family. He followed Baitabuna and prayed in front of the flag. Due to psychological effect, he felt relief inform the pain in his leg. He brought home some books of Mentuhui, made a flag similar to that of Bai and hung it on the wall. In this way, being half pushed and half-consenting, he joined Mentuhui and embarked on a road of no return.
Evangelizing to Cure Disease
At first, Chen only occasionally prayed privately by himself. Later, Bai found Chen and told him that if he wanted to be cured and see quick effect, he had to pray every day sincerely and it would be better if his family joined him. Chen was doubtful about that ,yet the persistent leg ache compelled him to follow Bai's words. This time, Chen Liansuo asked his wife and son to pray with him. When praying, he was distracted from his pain and he felt some relief. This made him more confident in Mentuhui and he became even more devout. His wife was obedient and blindly followed her husband. She didn't question her husband's decision. Instead, she followed him by praying with him and supporting him. In this way, Chen Liansuo didn't have to worry about objection from the family and he fully devoted himself to Mentuhui. At the end of 2003, instigated by Baitanbuna, Chen started evangelizing from door to door. In 2004, all the farm work and housework were shouldered by his wife and his 18-year-old son, Chen Xiaoba. It was a heavy burden and his son didn't see eye to eye with his father, yet his mother persuaded him by saying that as long as his father could be cured, they must carry on regardless of pain and hardship. As a teenager, Xiaoba hadn't formed a complete outlook on the world. How could he oppose his beloved parents? Thus, he tacitly followed his father, yet in his mind, he hoped that his father could stay with them at home and work together instead of evangelizing. The mother and the son were not capable enough to do all of the farm work. As a result, in the autumn of 2004, due to a bad harvest, the family income declined sharply. The belief in Mentuhui didn't lead to the automatic increase of grain and the family encountered a financial crisis. However, Chen Liansuo attributed it to the insincerity of his wife and son for Mentuhui and sent them to be taught by Baitabuna, in the hope of reversing the trend. By then, the whole family was trapped in Mentuhui.
Son Died due to Praying for Health
During the Spring Festival of 2015, a time for family reunion, Chen Xiaoba suffered from a stomachache due to an unknown cause. At this moment, Chen Liansuo asked his wife, Baitabuna and four other followers of Mentuhui to pray for the recovery of his son. They prayed until the New Year's Eve, yet there was no sign of relief for his son. Xiaoba rolled on the bed and asked his mother to save his life. He yelled that he would be a good boy and obedient. Seeing his son suffering, Han Chunxiang couldn't help crying. Despite the disagreement of Baitabuna, she sent her son to the village health center the next morning. When they arrived, before Doctor Zhao Baisui could treat Xiaoba, his breathing stopped. After diagnosis, Doctor Zhao told them Xiaoba had died of acute perforation of his appendix. If treated in a timely fashion, he wouldn't have died. Baitabuna fled on hearing the news. At the happy time of Spring Festival, Chen Liansuo lost his son. After that, he suffered from depression and high blood pressure. He was then hospitalized for cerebral infarction.
The anti-cult volunteers in Xinli Village heard about the news and visited Chen Liansuo, and brought books with them on fighting cults. They also offered psychological counseling and economic aid for the family. In this way, Chen fully recognized the nature of Mentuhui. Yet it was too late, for it was at the expense of his son's life, who can no longer feel the comfort of the family. In this way, Chen Liansuo lost his only son and fell ill. Praying didn't bring him a good life; instead, it pushed him down the road of misery.