(News fromwww.chinafxj.cn, dated Apr. 4, 2020) According to Taiwan media reports on January 21, 2020, China's Taiwan prosecutors have indicted Lin Xinyue, leader of China Society for a Good Deed a Day, and his 9 followers for murdering and abusing other followers.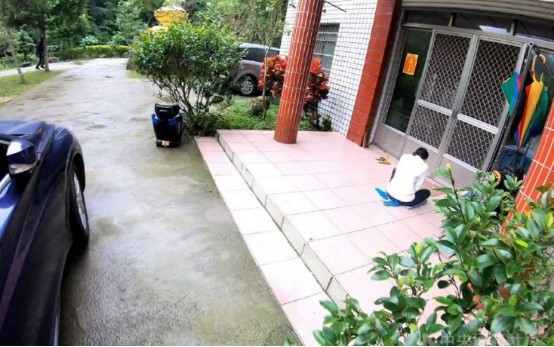 A follower kneeling outside the door after being beaten
On January 21, 10 members of a Taiwanese cult known as China Society for a Good Deed a Day were indicted on the charges of organized crime and violence against other followers which caused the death of one person and the blindness of another.
According to the indictment from the Taichung District Prosecutors Office, based on the evidence gathered during the raid on the cult's premises in Taichung, the 61-year-old cult leader Lin Xinyue and his 9 followers were charged under the Anti-Organized Crime Act with organized crime and violence against other believers which resulted in the death of one person.
The case occurred in March last year when the prosecutors said a Taiwanese woman surnamed Fang accompanied Lin Xinyue to Guangxi, mainland China, where the woman was allegedly beaten to death by the cult followers during an "exorcism" ceremony.
Soon after the incident, Lin Xinyue fled back to Taiwan, hiding in the mountains of Nantou County in central Taiwan. On August 21, police in Taiwan searched the cult's headquarters in Nantou County and Lin's residence in Taichung after learning of a possible link between the cult and the death of the woman surnamed Fang. They found several followers kneeling outside the door of a house after being beaten. During the search, police also confiscated some items under the law, including doctrinal materials, cash, uniforms, and steel rods used to beat the followers.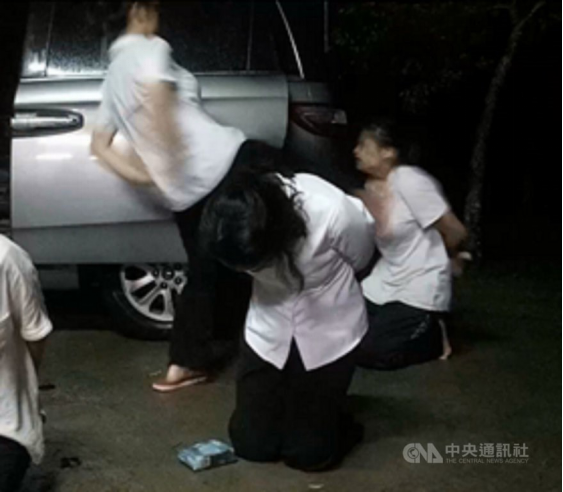 One follower kicking another one in the chest
Lin Xinyue, who was revered by her followers as the "Goddess," along with dozens of her followers, was subsequently detained and questioned by police on suspicion of organizing crimes and causing death by injury.
Meanwhile, with the help of Fang's family, police obtained medical information about Fang's treatment in a hospital in mainland China, as well as the testimonies from Fang's relatives who had dealt with Fang's funeral.
Information from Taiwan's Crime Investigation Bureau revealed that the evil cult was founded by Lin Xingyue in 2008, with its headquarters in Nantou County, and a branch in Taichung. The cult was alleged to be aimed at promoting the so-called "Five Good Virtues" as its doctrine, but in reality, Lin Xinyue, the self-proclaimed "Goddess" instigated some of her followers to beat those disobedient followers with sticks, citing "exorcism" as a pretext. The abused followers ranged from 2 to 80 years in age.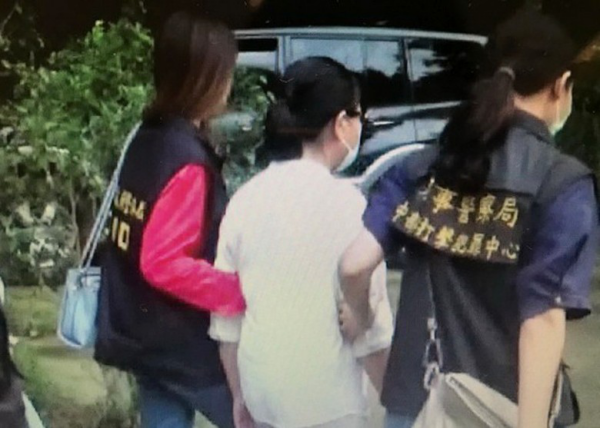 Lin Xinyue being arrested by police
Background information
Lin Xinyue, the "Goddess" or "Mother" in the eyes of her followers, had established China Baiyang Sigui Lingbao Holy Path, also known as China Society for a Good Deed a Day, in Nantou, Taichung, and other places respectively in Taiwan since 2008. The "Holy Path" criminal group recruited minors and made them break away from their families. Besides, the group had set up cadres such as Zhanglao(Elder), Tangzhu (Hall Master) and, Sancai (Three Talents) within it. It had also raised funds externally in the name of "cultivation", "development" and so on. About 100 followers had been introduced to the cult by their family members.
Since about six years ago, Lin has been instigating some of her followers to beat and abuse those who disobeyed her or wanted to leave, on the grounds of helping them "exorcise the demons." Those followers who violated her rules, including ignoring the God or Buddha, passing on the word in the name of a saint, sleeping all the time, walking at random, would be badly battered by others with sticks and pipes wrapped in cloth. What's more, Lin would also order them to kneel and slap their faces. Some followers' ears were swollen and bleeding after they had been beaten. A child only two years old suffered severe bruises on his thighs and buttocks. In addition to that, Lin also videotaped the beating process, and when those who were beaten recovered from their injuries, Lin Xinyue would call it a "miracle".
In February 2019, a 26-year-old female follower surnamed Fang was beaten and humiliated by members from the evil cult for "violating the doctrine". The woman eventually died from her injuries. Some of those involved in the criminal case were so scared that they left the cult organization quickly, while Lin Xinyue, citing "orders from God and Buddha", asked a male follower to turn himself into the police so that she could get away without punishment. It wasn't until March, when a citizen who knew Fang's parents tipped off the Taichung police, that the incident finally came to light.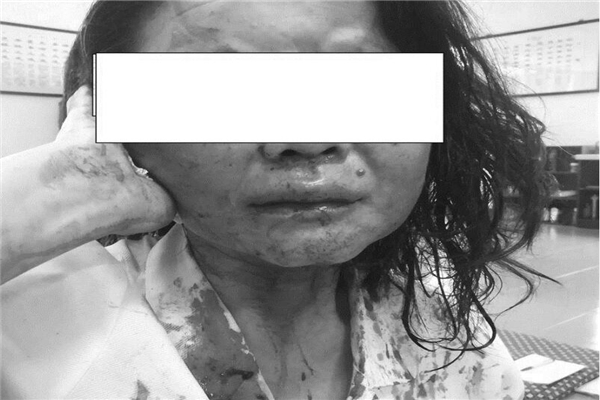 A female follower who had been battered

The prosecutors decided that Lin's acts such as illegal punishment should be immediately investigated according to laws regarding organized crimes, mayhem, and other crimes, and they called on the victims to come forward and identify themselves.
Police indicated the cult's followers had been thoroughly brainwashed and that even though they had been beaten black and blue, they still believed in the "Goddess" when they were questioned, insisting they "beat themselves up." Besides, these believers were imprisoned voluntarily, which is incredible.
It is learned that the woman who was beaten to death had been to Guangxi with Lin Xinyue previously. After the woman's death, the Guangxi public security department launched an investigation. Under the pressure of police investigation, Lin and others immediately absconded to Taiwan and hid in Guoxing Township, Nantou County.
Taiwan's United Daily News previously reported that all kinds of religions, including cults, are free to be spread in Taiwan. Some politicians even legalize individual cults to win votes. Because of this, criminal cases related to cults often occur in Taiwanese society.