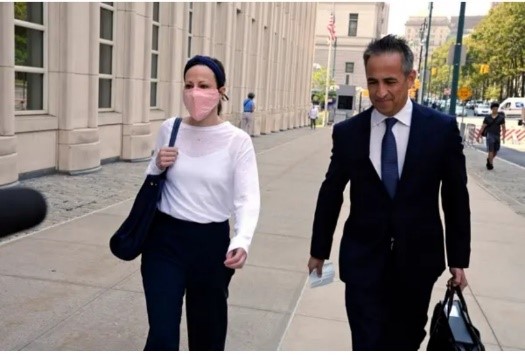 Lauren Salzman, whose mother co-founded Nxivm with Keith Raniere, apologized for her role in the organization
For decades the leader of the cultlike group Nxivm relied on a lieutenant named Lauren Salzman, who faithfully followed orders, implemented punishments and lied on his behalf.
But when that leader, Keith Raniere, stood trial in 2019, accused of sex trafficking and other offenses, federal prosecutors were the ones relying on Ms. Salzman.
The highest-ranking Nxivm member to take the stand, Ms. Salzman testified for four days, providing an insider's view of the group and sharing vivid details about a secretive sect of "slaves," controlled by Mr. Raniere, that was known as the Vow, or D.O.S.
Ms. Salzman's testimony helped to convict Mr. Raniere, who is now serving a 120-year prison sentence. It also appears to have helped spare her a prison sentence of her own.
On Wednesday, Ms. Salzman, who pleaded guilty in 2019 to racketeering and racketeering conspiracy connected to Nxivm, was sentenced to five years of probation and 300 hours of community service.
Judge Nicholas G. Garaufis cited Ms. Salzman's "central" role in Mr. Raniere's prosecution, what he saw as her desire to lead a law-abiding life, and her complicated past as both victimizer and victim.
"The defendant helped Keith Raniere implement some of the most twisted, manipulative and reprehensible schemes," he said. "She is also herself a victim of Raniere and his depravity."
Prosecutors had asked for a sentence below the federal guidelines, which ranged from about seven to nine years. In a memorandum they referred to Ms. Salzman's "credible, detailed testimony" and her familiarity with Mr. Raniere, whose followers called him "Vanguard."
"By virtue of her close, decades-long relationship," prosecutors wrote, "Lauren Salzman was privy to a significant amount of information regarding Raniere's role in directing criminal activity."
Ms. Salzman's lawyers had asked Judge Garaufis to keep her out of prison, citing Mr. Raniere's influence over her and her determination to start a new life, which they said has included counseling, work as a dog groomer and willingness to care for ailing relatives.
"I do not have enough tears for how deeply sad, ashamed and regretful I feel about my time with Keith Raniere and my participation in his wrongful initiatives," Ms. Salzman, 45, wrote in a letter to the judge, adding: "I can't even begin to imagine the pain, feelings of betrayal, feelings of violation and lasting emotional trauma that the victims have experienced."
Speaking in federal court in Brooklyn on Wednesday, she apologized to those she had harmed, including friends who she had convinced to join D.O.S., which she had presented as a women's empowerment group.
"There was nothing empowering about this group," Ms. Salzman said. "There was pain, deceit, there was humiliation, control."
Some former Nxivm members do not appear to have fully forgiven her. One, Susan Dones, read a statement in court that accused Ms. Salzman of using her position within the group "as a weapon against anyone who stood in the way of Keith Raniere."
Another, Ivy Nevares, recorded an audio message that was played in court. Ms. Nevares said that Ms. Salzman had been her best friend for nearly 17 years but had not helped her when she was subject to forced labor within Nxivm.
"She groomed me to feel safe in the presence of a predator and his vicious pack," Ms. Nevares said. "She used her position and skills to try to force me to accept my exploitation and to do so with a smile."
Ms. Salzman testified during Mr. Raniere's trial that she first met him in 1997, when she was 21 and just before he started Nxivm as a self-help business near Albany with her mother, Nancy Salzman.
At first, she saw Mr. Raniere as a wise and ethical "mentor and teacher" who could help her attain personal fulfillment. Starting in 2001, Ms. Salzman testified, she had a seven or eight-year "physical, sexual relationship" with Mr. Raniere.
But in retrospect, she testified, she saw Nxivm's teachings as intended to create a kind of "army" to protect Mr. Raniere and legitimize his lifestyle.
While she was required to be monogamous with Mr. Raniere, he was not. Eventually, Mr. Raniere put the relationship "on hold," Ms. Salzman testified, adding that she had a "complete meltdown" when she learned that he was considering having a child with another woman.
Even as her sexual relationship with Mr. Raniere faded, Ms. Salzman was a significant figure within Nxivm. From 2009 to 2018 she was on the group's executive board, she testified, placing her within Mr. Raniere's trusted inner circle.
In 2010 he deputized her to oversee a young Nxivm member named Daniela whom he wanted to punish.
Daniela testified during Mr. Raniere's trial that he was angry because she was attracted to another man. But he decreed that she had engaged in "manipulative" behavior and ordered that she be isolated in a room. The punishment lasted nearly two years. Only Ms. Salzman was allowed to visit, and Daniela said in her testimony that she was often unkind when she did.
Daniela testified that she "hated" Ms. Salzman but, because of her loneliness, came to treasure visits from "the only human being that I was seeing."
As time passed Ms. Salzman visited less often. Daniela went months without human contact, she said, and she suffered from the isolation, telling jurors that it became "harder and harder to keep the darkness at bay."
Much of Ms. Salzman's testimony related to the sect known as D.O.S. — an acronym for a Latin phrase that roughly translates to "Lord/Master of the Obedient Female Companion." She was one of eight women Mr. Raniere recruited as "first-line masters" within the group and considered his "slaves." The eight also recruited their own "slaves."
The recruits were required to obey orders unquestioningly. Compliance was enforced through threats to reveal embarrassing personal material, called "collateral," that was collected from women early in the recruitment process as a supposed sign of commitment.
Some D.O.S. members had been assigned by masters to have sex with Mr. Raniere, Ms. Salzman testified. Prosecutors have said that senior members, including Ms. Salzman, also benefited financially from members who were coerced into providing free labor.
Ms. Salzman testified that she recruited six women into D.O.S. and was present when five of them were branded — in a ceremony scripted by Mr. Raniere — with an image that she told them was "an abstract symbol" but really included Mr. Raniere's initials.
Ms. Salzman told jurors that members sometimes struck each other with a strap as punishment, and that Mr. Raniere "wanted to make sure that we were flicking our wrist hard enough," adding: "If you flick your wrist a specific way or if you really get the wrist into it, then it should really hurt."
By the end of 2017 the brandings had been reported in The New York Times. Some Nxivm members confronted Mr. Raniere. Several left the group.
Ms. Salzman remained, however, still loyal to Mr. Raniere, who denied that he had anything to do with D.O.S. She testified that she issued public statements repeating that falsehood.
"I lied to the entire community about it," she told jurors. "I lied to the media about it, I lied to everybody about it."
Original Website: https://www.nytimes.com/2021/07/28/nyregion/lauren-salzman-nxivm-sentencing.html