Founded by a man who claimed to be God, Victory Altar is considered a cult by mainstream Christian organizations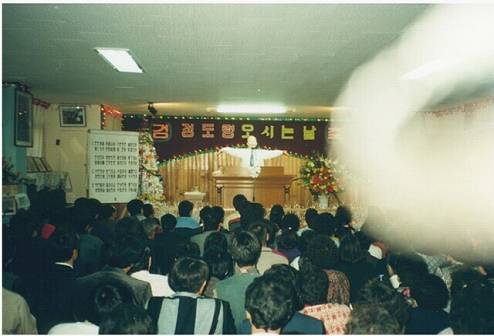 Victory Altar claims that the gray fog on the right-hand side of this photograph is "Holy Dew." (Victory Altar website)
The South Korean city of Bucheon, in Gyeonggi Province, announced on Feb. 10 that a total of 53 people had tested positive for the COVID-19 virus after the city tested 273 congregation members at Victory Altar church, in the city's Goean neighborhood, and a cram school in the Ojeong neighborhood. The positive cases included 20 people at the church and 33 students at the cram school, which are at the heart of an infection cluster in Bucheon.
Disease control authorities started looking for COVID-19 cases after learning that a Victory Altar church member who came down with a fever on Feb. 3 was teaching at the cram school. The virus reportedly spread quickly among church members who were living together in a male dormitory.
"Twenty-two members of Victory Altar were living together in the dormitory, and the Ojeong cram school where one of the infected members was teaching has also seen an infection cluster," sad Jang Deog-cheon, mayor of Bucheon, in a post on social media.
"We've finished testing most of the 139 members of Victory Altar and 134 people at the cram school. We're also testing everyone at two other cram schools attended by people infected at the Ojeong cram school."
Victory Altar, the religious group to which the church in Bucheon's Goean neighborhood belongs, is no stranger to scandal, and mainstream Christian organizations regard it as a cult.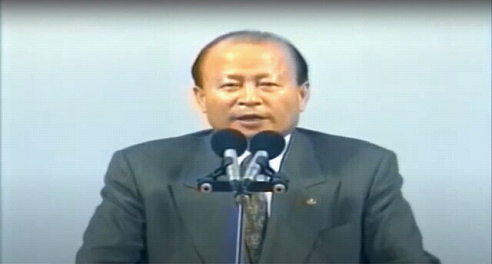 Cho Hee-seung, founder of Victory Altar, appears in this screenshot from Victory Channel for a Victorious Life, a YouTube channel.
The religious group was founded by Cho Hee-seung, who died in prison in 2004. Cho, who variously described himself as God, savior, victor, and folk messiah, claimed that those who believed in him would be cured of disease and enjoy eternal life.
Victory Altar became notorious in 2003 after it came to light that the group had secretly buried former members. Police who had been investigating the disappearance of 15 members of the group found their bodies buried on a group property called the Garden of Grace.
In 2003, Cho Hee-seung was already serving a six-year term for worker exploitation, fraud and holding people against their will when he was put on trial again for murdering members of his own group. He and two other members were sentenced to death for the crime. Cho died of a heart attack in August 2004 while still in prison.
The Victory Altar website provides a detailed biography of Cho's life. According to the website, Cho began attending a Presbyterian church in Gimpo after reading in the Bible that Christians would be resurrected and go to heaven. He was detained by the North Korean army during the Korean War and was the first anticommunist POW released on orders by Rhee Syng-man, who was then president of South Korea.
That experience with grace, the website says, led Cho to acknowledge the existence of God and enroll in Daehan Theological University, where he undertook his study of the Bible.
The bio on the website says that Cho set up seven middle and high schools and several churches while serving as a chaplain in the military. Supposedly, Park Tae-son, founder of the Olive Tree new religious movement, was cured of lung and ear conditions following a meeting with Cho.
While attending Olive Tree, Cho undertook intensive labor and spent 30 days in fasting and prayer until he managed to completely exorcise the demons inside him on Oct. 15, 1980, the website says, describing that as the first step toward the salvation of humanity.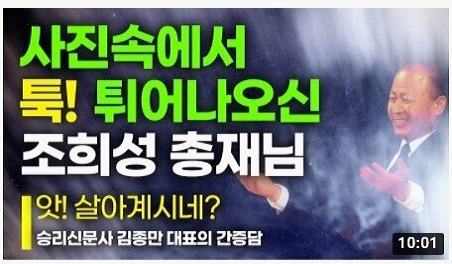 Screenshot from Victory Channel for a Victorious Life, a YouTube channel.
According to Victory Altar, Cho is God himself, who came down from heaven in the body of a human to save mankind. After completely overcoming his sin and achieving eternal life as God (or Buddha), the group claims, Cho set up Victory Altar and then later resumed his divine form, after completing his salvific mission.
Victory Altar claims that glowing "Holy Dew" falls upon the group's members during gatherings and services and prints photos that purportedly depict this mystical substance. Some of these photographs are currently posted on Victory Altar's website.
According to the group, those who receive the grace of Holy Dew are cured of their illnesses. Rotten and polluted blood is supposedly expelled through bowel movements, clearing the bloodstream and restoring youth to the body. Some of the group's members even argue that Cho is still alive.
Victory Altar explains that Cho's five promises were to eliminate Communism from the globe, to stop the monsoon rains from falling in Korea, to stop typhoons from hitting the country, to ensure that every year has a good harvest, and to keep war from breaking out.
"We're extremely sorry and unable to hold back our feelings of remorse for the infection cluster that occurred at our dormitory, which has caused anguish for Koreans who have been striving so hard to prevent the virus from spreading. We will actively comply with self-quarantine and other measures required by the disease control authorities as we do our best to quickly stop the virus from spreading," Victory Altar said in a statement published on its website on Feb. 10.
By Cho Yeon-hyun, religion correspondent
Original Website:http://www.hani.co.kr/arti/english_edition/e_national/982744.html