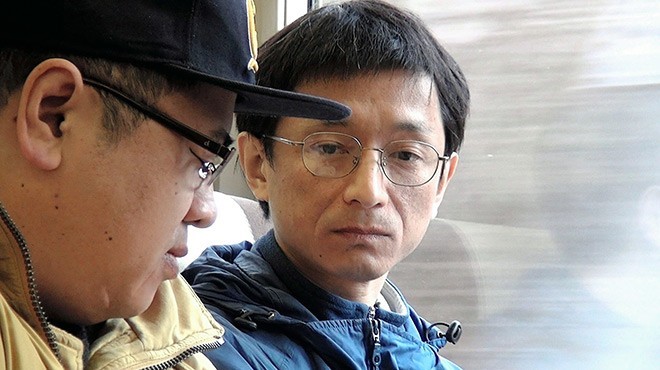 In "Me and the Cult Leader," Hiroshi Araki, right, who was in charge of public relations at Aum Shinrikyo, freezes in silence after director Atsushi Sakahara asks who is responsible for the aftereffects of the 1995 Tokyo sarin gas attack. ((c) 2020 Good People Inc.)
A documentary film on "redemption" features an individual whose group had earlier tried to kill the director.
Atsushi Sakahara, 54, narrowly survived the sarin nerve gas attack on the Tokyo subway system during the morning rush hour 26 years ago. The assault left him with post-traumatic stress disorder and other problems.
It also led him to pursue a career in filmmaking and, eventually, complete his documentary, "Me and the Cult Leader," which opened in March.
On the morning of March 20, 1995, Sakahara, a company employee at the time, got on the first car of a Tokyo Metro Hibiya Line train at Roppongi Station. He found a male passenger collapsed in a seat near the door. A newspaper was at his feet leaking out a transparent liquid.
Sakahara could not focus his eyes and had strange feeling, so he moved to the next car. After he got off the train, his vision increasingly got darker. The sarin had caused his pupils to contract.
The passenger at the door died. Sakahara's move to the next car likely saved his life.
The attack by senior members of the Aum Shinrikyo cult hit five trains on the Hibiya Line, Chiyoda Line and Marunouchi Line and was intended to throw the functions of the capital into disarray.
The nerve gas, released through the puncturing of plastic bags wrapped in newspaper, killed 14 people and sickened more than 6,000.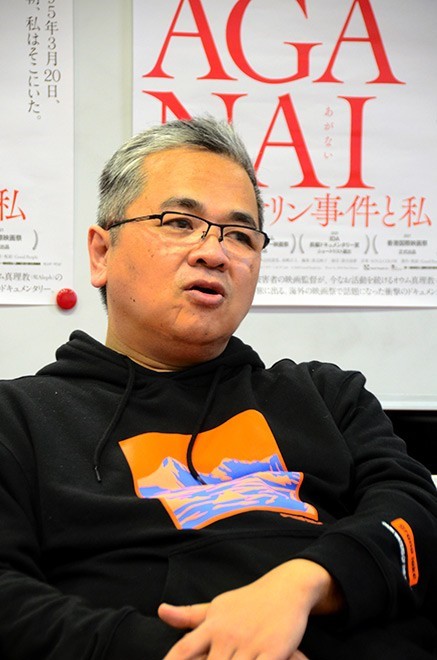 Atsushi Sakahara, a victim of the 1995 Tokyo sarin gas attack who shot the documentary "Me and the Cult Leader" (Wataru Netsu)
After the attack, Sakahara started to think deeply about himself and his life. He quit his job and went to the United States to fulfill his dream of making movies.
He learned how to write scripts and produced short films. But while building his career, Sakahara battled PTSD and sleeping problems caused by the aftereffects of sarin.
In 2013, he suddenly lost consciousness on a flight and broke his hip. He said he did not know if the accident was caused by the sarin exposure, but he thought that "no one knows when they will die" and decided to make a movie that only he could produce.
As a victim of Aum Shinrikyo, he decided to focus on the cult in a film.
In 2014, he proposed to Aleph, one of Aum Shinrikyo's successor groups, about appearing in his documentary film.
After a year of negotiations, he obtained permission to film Hiroshi Araki, who was in charge of public relations for Aum Shinrikyo.
Sakahara and Araki coincidentally were both from the Tanba region, which covers parts of Kyoto and Hyogo prefectures, and graduated from the same university.
In the documentary, Sakahara appears on the screen with Araki as they visit their home region.
Over their nine-day journey together, Sakahara tries to uncover the true thoughts of Araki.
Araki talks about his memories of his grandmother who cared for him and also reveals an incident with his family that led him to join the Aum cult.
However, he also said he still worships Aum Shinrikyo founder Chizuo Matsumoto, who went by the name Shoko Asahara when he led the cult.
In 2018, 13 former senior Aum members were executed. Ten of them were directly or indirectly involved in the subway gas attack, including Matsumoto, who masterminded the mass murder.
The 14 passengers and subway workers killed in the attack were aged 21 to 92.
They were not the only victims of the cult.
Aum Shinrikyo also released sarin in Matsumoto, Nagano Prefecture, in 1994 that led to eight deaths, killed the family of an anti-Aum lawyer, and murdered other individuals.
According to the Public Security Intelligence Agency, there are now three successive or spin-off groups of Aum Shinrikyo: Aleph, with about 1,500 members; Hikari no Wa (Ring of lights) with about 120 members; and Yamadara no Shudan (Group of Yamada and others) with about 30 members. Those groups operate mainly from 31 facilities in 15 prefectures.
In his documentary, Sakahara also explains how Aum Shinrikyo affected his personal life.
He met his future wife after the subway attack. Before their wedding, she told him that she and her friend participated in a seminar organized by Aum Shinrikyo when she was a high school student. Her friend joined the cult to lead a communal life at an Aum facility.
Sakahara wanted to disseminate information on the sarin attack, but she did not understand his passion. They later divorced.
In the documentary, the director shows a picture of his former wife to Araki.
"I think that people like her are suffering more than followers in Aleph," Sakahara says. "They are lonely."
The documentary's Japanese title starts with the word "AGANAI," which means "atonement" or "redemption.
It refers to Araki's attempt at redemption from what the cult did to its victims and society, and also Sakahara's need to redeem himself after failing to make his former wife happy.
The editing process took five years because of the director's PTSD.
"Depending on certain circumstances, anyone could be lured into a cult," Sakahara said. "Why do followers keep their faith even after the cult committed the dreadful incident?"
He added, "By knowing Araki's story, I hope that the audience will relate themselves to those issues."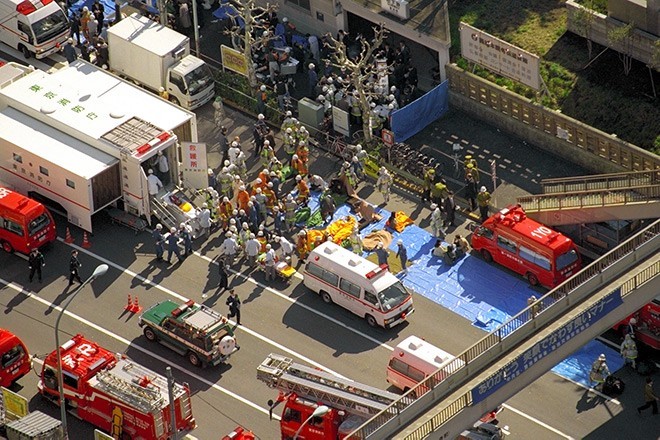 Passengers sickened by the sarin nerve gas are taken into rescue vehicles outside Tokyo Metro Tsukiji Station on March 20, 1995. (Asahi Shimbun file photo)
The film is also designed to show how victims continue to suffer from the effects of the nerve gas.
There have been no follow-up government surveys on the health of the victims, and no one knows specifically how many people are still affected.
The Recovery Support Center, a nonprofit organization, studies the health conditions of sarin victims every year.
In a questionnaire, more than 50 percent of the 283 victims who responded said their eyes get tired easily, and more than 25 percent said that they tend to get depressed or cannot sleep well.
The central government provided cash handouts to victims and bereaved families, but it has not given continuous financial assistance for medical treatment.
Yuji Nakamura is a lawyer and vice president of Aum Shinrikyo Hanzai-Higaisha Shien Kiko (Support organization for victims of crimes committed by Aum Shinrikyo), which continues to collect compensation funds from the successor groups.
He pointed out the necessity of a follow-up survey by the government.
"The government should pay for their medical fees like it does for hibakusha (atomic bomb victims)," he said.
Original Website: http://www.asahi.com/ajw/articles/14316967