Santos Rosario told a court that he shared secrets with Lawrence Ray but his ex-girlfriend's father soon turned violent, including putting him in a chokehold until he passed out.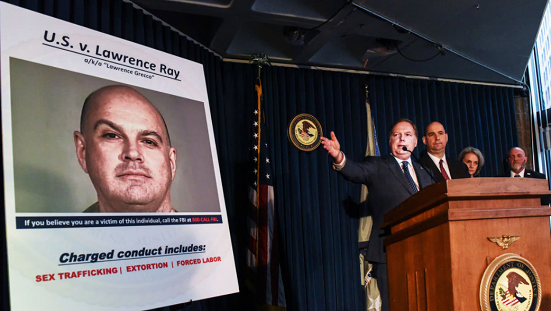 A former Sarah Lawrence student recounted to jurors on Thursday the abuse he endured at the hands of accused sex cult leader Lawrence Ray, including how the man called him a "hemorrhoid" and "held a knife to my genitals."
"I was confused because this didn't happen overnight," Santos Rosario, 30, said during Ray's sex-crimes trial in Manhattan federal court. "He made me believe that I deserve the treatment and that it was my fault."
The first victim to testify in Ray's case, Rosario is among several former college students who lived in a dorm room with the then-50-year-old's daughter. Prosecutors allege that in 2010, shortly after his release from a New Jersey prison, Ray moved into the Sarah Lawrence College dorm room and allegedly ran a sex cult for nearly a decade under the guise of "therapy sessions" as a "father figure."
Ray, 62, has pleaded not guilty to several charges, including sex trafficking, extortion, and racketeering conspiracy, for allegedly physically, sexually, and psychologically abusing several college students at the liberal arts school in suburban New York—in addition to laundering over $1 million from one woman he forced into sex work. Eventually, prosecutors said the abuse continued in his Manhattan apartment, North Carolina, and other locations.
"When [Larry Ray] arrived at Sarah Lawrence in 2010, he was not there to help students improve their lives. He was there to help himself," Assistant United States Attorney Lindsay Keenan said during opening statements Thursday at Ray's trial in Manhattan federal court. "He used violence, fear, sex and manipulated to get what he wanted. Sex, money, and power."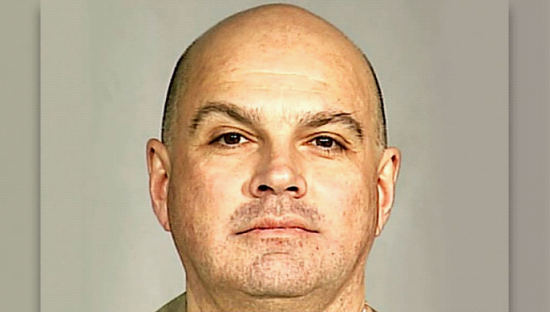 Lawrence Ray is alleged to have used his daughter's dorm room at Sarah Lawrence College to run a sex cult.
To ensure his victims' silence, Ray allegedly extracted false confessions using sleep deprivation, psychological and sexual humiliation, verbal abuse, physical violence, and threats of legal action. Ray's alleged extortion and sex-trafficking scheme were first detailed in a New York Magazine expose in April 2019.
"When shame and embarrassment weren't enough to get what he wanted, [Larry Ray] resorted to violence," Keenan said, adding that he "threatened to dismember a victim while standing over him with a knife" and "threatened to shatter a victim's skull while hitting him with a hammer."
As Keenan walked jurors through all of Ray's harrowing alleged crimes, the 63-year-old, wearing a blue shirt and beige sweater, was staring intently at the prosecutor just feet away from the defense table. Ray appeared to barely move throughout the prosecution's brief opening statement, only fidgeting to touch what appeared to be a black headphone or hearing aid.
Ray's defense, however, took a different route to explain the case against their client: the allegations are simply "stories" from a group of misguided young adults. "This case is about a group of storytellers," Allegra Glashausser, from the Federal Defenders of New York, told jurors. "Over time, their stories grew and details were added. This is not a criminal enterprise, this was a group of storytellers."
The start of Ray's trial marks the latest in a string of high-profile federal sex-crimes trials in New York. In 2019, Keith Raniere was convicted of sex trafficking for running the sex cult NXIVM—months later a jury found Harvey Weinstein guilty of abusing women under the guise of jumpstarting their careers. Last year, disgraced R&B star R. Kelly was found guilty of leading a criminal enterprise geared to help him prey on women and girls for his own sexual gratification. Months later, Ghislaine Maxwell was convicted for helping recruit underaged girls for Jeffrey Epstein.
In all the cases but Weinstein's, prosecutors alleged that these master manipulators had female co-conspirators who helped recruit followers into their inner circle. Prosecutors have named two female co-conspirators in Ray's case: Isabella Pollok, a former student who became his "trusted lieutenant" and is facing conspiracy charges; and his own daughter, who has not been charged. Both women plan to introduce statements during this trial.
Prosecutors say the misdeeds began in 2010 when Ray was released from prison on charges stemming from a child custody dispute and eventually moved into his daughter's on-campus housing at the elite college. The Brooklyn native was known in New York law enforcement circles—including being the best man at ex-New York Police Commissioner Bernie Kerik's wedding—and had at one time even had mob-ties.
On Thursday, Kerik told The Daily Beast that based on the allegations against Ray, it is not shocking that "the master manipulator" and "nut" is facing trial for his actions.
"I haven't seen this guy in more than 20 years," Kerik said. "When you read some of this stuff you would think we were best friends until last week. I haven't seen him in over two decades. But if these reports are true, this guy belongs in prison for the rest of his life. What he did to these kids, what he did to their parents, he has altered their minds, he has destroyed their families, he bankrupted families. It's complete insanity."
The former police commissioner added that one of the major allegations the defense tries to pose is that Kerik directed some of the Sarah Lawrence students to poison Ray—a claim that makes no sense considering he was in prison from 2010 to 2014.
"He actually had these kids saying, I don't know if they believed what they were saying, that they had met with me and I had given them things. I was in prison then, when that shit was going on. I wasn't even around!"
Rosario admitted to jurors that he was initially enthralled by Ray when the father showed up at the New York college in 2010. Just 19 at the time and a one-time boyfriend of Ray's daughter, Rosario described him as a "cool" and "very inspiration" man who would often cook for the dorm.
"I ended up confiding in him issues that I had with my family... the depression I struggled with in high school," Rosario said, adding that he found Ray to be very inspirational.
Prosecutors say Ray used his history to tell his daughter's friends stories before eventually preaching about "his personal philosophy" and conducting "therapy sessions." Rosario added that part of that philosophy was the "importance of honesty."
During the "therapy" sessions, court documents state Ray learned "intimate details about their private lives, vulnerabilities, and mental health struggles under the pretense of helping them.
"He made them feel special… so he could extort them," Keenan said Thursday.
Rosario added that he and his friend group were so enthralled by Ray, they spent most of their summer before junior year at his Upper East Side apartment that he also helped remodel.
Eventually, Rosario said in the fall of 2011 Ray's behavior turned more sinister.
"It turned into an escalating pattern of verbal and physical abuse," Rosario said, adding that Ray would call him a "bitch, trash, hemorrhoid, [and] scum."
Ray also allegedly physically abused Rosario, which consisted of being hit, slapped, having a knife held to his throat and genitals, and being put into a chokehold until he passed out. When asked to describe how he felt by Ray's behavioral shift, he simply said: "Terrified."
Prosecutors also argue that Ray alienated several of the victims from their parents and convinced several of the victims that they were "broken" and in "need of fixing."
At least one of the college students also engaged in prostitution for Ray's financial benefit, prosecutors allege. If any of the students ever made a mistake or went against his teachings, prosecutors argued that Ray would accuse them of "sabotage"—which often led to cruel physical and emotional punishment. In one harrowing act of violence, Ray allegedly used a plastic bag to choke one woman—identified in court documents as Jane Doe 2 who he had forced into prostitution—inside a Manhattan hotel room.
Keenan added on Thursday that at the hotel room, Jane Doe 2 was subjected to hours of "torture" before Ray almost suffocated her with the plastic bag, "smothered her with a pillow" and "choked her with a leash."
"He told her to behave. He told her to keep making money," Keenan said.
To ensure their loyalty and silence, Ray allegedly forced the students to write fake emails and journal entries, give him thousands of dollars—often making them drain their parents' bank accounts—and even took explicit photos of them.
Even after his arrest, court documents argued, Ray tried to regain control of his group—including asking his father to let Pollok know that they "signed on forever." A few months later, in March 2021, Pollok was hit with a slew of crimes, including money laundering, associated with being Ray's alleged "lead agent" who willingly joined his "criminal scheme."
"If he is convicted, the judge needs to put the judge away for life," Kerik added.
But Glashausser insisted that all the evidence in the case against Ray is just the result of a group of students who believed their stories—who in turn made Ray believe too.
"I am not saying Larry Ray is a saint," Glashausser admitted. "You don't have to like him. But these things are not federal crimes."
Original Website:https://www.thedailybeast.com/trial-of-lawrence-ray-the-dad-who-feds-say-ran-a-sex-cult-out-of-his-daughters-sarah-lawrence-dorm-room