Members of ASEZ — a volunteer-focused offshoot of the World Mission Society Church of God, a global organization that faced controversy due to claims that they function as a cult — are seeking to establish an official student organization at Yale.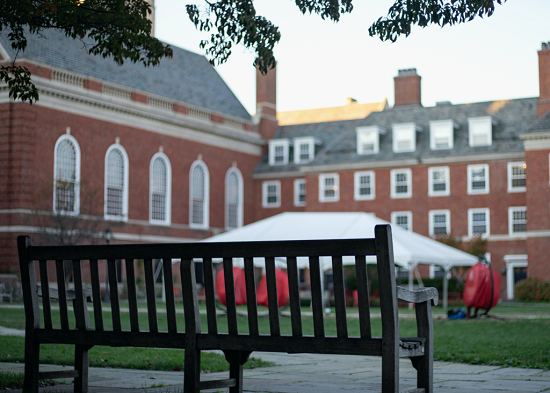 ASEZ, the university volunteer branch of the World Mission Society Church of God — a Christian group that has faced criticism for functioning like a cult and is known to recruit on other college campuses — has been active on campus, looking to recruit members to form an official student group.
Over 10 students have described to the News instances of being approached by a group known as ASEZ, which stands for Save the World from A to Z, with one student having characterized the group as "cult-like" and describing it as a "cult" that "masquerade[s] as just a religious group and a way to do Bible study." Davornne Lindo '22, the main student leader working to recruit students to the group, told the News that ASEZ's mission is "to save the Earth from A to Z" and is an international volunteer group established by the Church of God, composed of university students from across the world.
ASEZ's central beliefs stray from traditional Christianity
The Church of God was founded in South Korea in 1964. The main tenets of the church include the belief in "god the mother" as well as the sabbath on Saturday. The Church of God believes that Sahng-Hong Ahn, who founded the church in 1964, is the second coming of Christ. The church refers to him as Christ Ahnsahnghong, believing that he restored the Passover and fulfilled the prophecy of King David, which was only partially fulfilled by Jesus Christ. While ASEZ was established by the Church of God, Lindo told the News that members can be part of ASEZ — which is volunteer-oriented — without being a part of the church. But students who attended some of ASEZ's meetings said they found the lines more blurred.
When asked by the News about ASEZ's beliefs, Lindo read directly from its brochure, saying that "we cherish God's love in the basis of the Bible-centric faith, communicate with the world citizens to resolve problems that the world is faced with and realize the well being of mankind."
Tytiana Washington, ASEZ Coordinator for the Connecticut chapter of the Church of God, told the News that the church follows a literal reading of the Bible. According to their website, the Church of God teaches its members that Passover is a Christian tradition, that the symbol of the cross is a form of idolatry and to believe in God Elohim — God the Father and God the Mother. God the Mother reportedly refers to Ahn Sahng-Hong's spiritual wife, a South Korean woman in her mid-70s named Jang Gil-ja. She is also described as 'Heavenly Mother' and 'The Bride.'
Lindo explained that ASEZ is "not the same" as the Church of God because ASEZ is "primarily [geared around] volunteer service." She said those who are interested can participate in Bible studies, but it is not required for members of ASEZ, as volunteering is the group's predominant goal.
Lindo is currently in the process of establishing ASEZ as an official student organization at Yale, which requires at least five members. Meetings, however, are already occurring on Yale's campus — the News confirmed instances of meetings at William L. Harkness Hall and Bass Library.
The University Chaplain's office confirmed that ASEZ is not an officially recognized student group.
Students' experiences with ASEZ recruitment and meetings on campus
The News confirmed over 10 instances of students being approached by ASEZ. All confirmed instances were from women, and most were from women of color. Three students were willing to speak further about their experiences, but two requested anonymity due to fear of continued attention from the group.
"By using concerning practices like repeatedly, persistently approaching students with friendly smiles and empty compliments, asking for their contact information, repeatedly texting them, and using concerning psychological control tactics like reprimanding people for having beliefs that diverge from their own, WMSCOG is a concerning presence on campus historically and today, especially when being promoted by trusted students on campus," one student approached by ASEZ told the News.
One student who was approached by ASEZ said that the separation of ASEZ and the Church of God was not "how it was framed" to her. The ASEZ representatives she spoke to focused largely on religious aspects and "hardly talked about volunteerism at all." She said they primarily told her about when they go to church and when the Bible study sessions were.
The other student concurred, saying that when they were approached by ASEZ, God the Mother came up almost immediately and they were invited to attend Bible study sessions. An email obtained by the News from ASEZ to a recruited student specifically invited them to a "Bible seminar," on the topic of "how to be protected from disaster through the 'Seal of God.'"
Charnice Hoegnifioh '24 told the News she first met Lindo through a tutoring job last spring, and became involved with ASEZ soon after. Hoegnifioh said she was never offered volunteering opportunities through ASEZ, with all outreach focusing mostly on the religious aspects, and she was interested initially because she wanted to explore her spirituality in a deeper way. She did not get the sense that the group was about sustainability or the environment, except for when she was told by ASEZ leaders that the only part about saving the earth was "saving the people on earth from the end of the world."
Although she initially found the Bible study sessions impressive, Hoegnifioh said that the interpretations of the Bible that were soon introduced "felt like [there was] an agenda." She was told that if she did not follow the beliefs of the Church of God, she would "go to hell," and that she should not want this if she was "a good person."
In an email to the News, Lindo said that she "would never" tell someone that they are going to Heaven or Hell, since only "God is Judge." As a Church of God member, her goal is to "share hope for the Kingdom of Heaven," and not to instill fear.
"[The bible study sessions] weren't thinking about and interpreting the word of God in different ways," Hoegnifioh said. "It was like pushing an agenda forward."
Hoegnifioh described feeling "invalidated" and "gaslighted" at times during these sessions. She said that if she showed signs of disagreement or disbelief, she would be made to listen to teachings again and repeat them back.
Assistant Chief Anthony Campbell from the Yale Police Department told the News that he is not aware of any reports being made by students about ASEZ.
Cult-like characteristics of ASEZ
Steven Hassan, an author and mental health counselor specializing in cults, told the News that the experiences described by students — such as rote memorization — matches the characteristics typical of what he calls "authoritarian" or "destructive" cults. He described ASEZ as a form of "deceptive recruitment" on the part of the Church of God.
Hassan describes cults as being on a continuum from ethical to unethical influence. There are groups that may seem "cultish," Hassan said, but members have full knowledge of what they are getting into, are not restricted in their lifestyles and are free to leave without fear of threats or harassment. Authoritarian or unethical cults, on the other hand, demand that members create what Hassan called a "pseudo-self" that is obedient to the cult and that suppresses the real self.
"The thing about destructive cults is they use a million fringe groups," Hassan said. "And as soon as they're exposed with one name, they change it to another name."
The goal of these "fringe groups," Hassan said, is to recruit more members into the larger organization. Often, this involves alienating members from environments where they can seek support — like family or school — or situating members strategically in order to recruit others. Hassan stressed that one organization may have many smaller groups to aid in recruitment.
At least four other sub-organizations have been established by the Church of God.
The Church of God remains at the center of controversy over its beliefs and methods. The Christian Church, as well as governments of several countries, including Singapore, have labeled the group as being a "cult" or "cult-like." Several ex-members have alleged that the group is a doomsday and mind-control cult that convinced members the world was going to end in 1988, 1999 and 2012. Ex-members have also alleged that they were required to pay mandatory tithes of 10-15 percent of their salaries.
In 2013, Michele Colon, a former member of the Church of God, filed a civil suit against the church, calling it a "profit-making cult."
Michelle Ramirez, a former member of the World Mission Society Church of God, alleged that she was alienated from her family and loved ones, deprived of sleep and felt forced to get an abortion because members were not allowed to get pregnant. The Church of God denied these allegations in a court hearing.
Hoegnifioh found many of the practices of ASEZ to resemble the main characteristics of cults, including the presence of a charismatic leader and transcendent belief systems. She said she felt the transcendent messages were especially apparent with the emphasis on following the ideas of the Church of God to promote the "well being of your future." Hoegnifioh also said the group used systems of control and influence in encouraging her to give up other commitments to attend Bible studies.
"The more time spent is the more they're trying to force you to be there and less involved in the other things and isolating and separating you from the rest of your family," Hoegnifioh told the News.
The Church of God is "leading the true religious reformation by restoring the truth of the early Church to lead humankind to eternal life," according to its website.
Original Website:https://yaledailynews.com/blog/2022/04/27/religious-group-facing-cult-allegations-looks-to-recruit-members-on-yales-campus%EF%BF%BC/