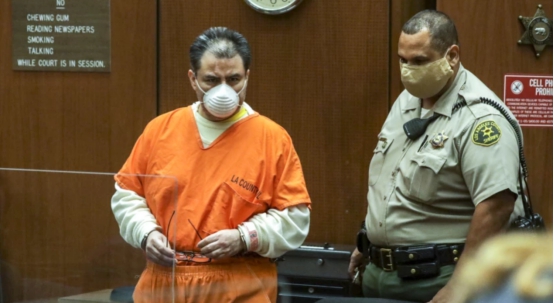 Just days before his long-awaited trial was set to start, La Luz del Mundo leader Naason Joaquin Garcia pleaded guilty Friday to sexually abusing girls from his congregation, a stunning reversal for a man who followers believe is an "apostle" appointed by God.
Originally facing 36 charges, Garcia at the last minute took a plea deal that called for him to admit to three counts, the state attorney general's office announced Friday: two counts of forcible oral copulation involving minors and one count of a lewd act upon a child who was 15 years old.
"Today's conviction sends a clear message that sexual exploitation is never acceptable in California. We will hold you accountable if you break the law," Atty. Gen. Rob Bonta said in a news release issued late Friday afternoon.
Garcia, he said, abused his authority to "take advantage of children," while relying on his underlings "to groom congregants for the purposes of sexual assault."
"Today's conviction can never undo the harm," Bonta declared, "but it will help protect future generations."
Garcia, 53, had publicly maintained his innocence for years. His unexpected plea change came during an unannounced hearing Friday, which was only disclosed after the fact in a news release.
Garcia's lawyers didn't immediately return requests for comment; a church spokesman had no immediate comment.
Garcia has been in jail for nearly three years awaiting trial, since state prosecutors charged him with abusing girls who belonged to his Mexico-based megachurch. They also alleged the church was involved in a lengthy cover-up of the sexual misconduct.
Despite the vast publicity and lurid charges, Garcia had maintained almost universal support within the church. When he was arrested, many of the faithful flocked to churches in the denomination's hometown of Guadalajara, but also in Los Angeles and other cities.
They prayed, they talked to journalists, they protested their leader's innocence. Said parishioner Robert Pelegreen at the time: "When David was going to fight Goliath, it looked like he was going to lose. God has his plan."
After several delays, Garcia's trial was supposed to start with jury selection Monday before Los Angeles County Superior Court Judge Ronald S. Coen. After Friday's unexpected plea, he will instead face sentencing Wednesday.
The California attorney general's office, which is handling the case, also had accused Garcia of coercing underlings to recruit young girls for him to sexually abuse. Three female church members also have been charged with various offenses. One remains on the run, while another has agreed to testify against Garcia, saying she herself was abused.
https://www.latimes.com/california/story/2022-06-03/as-sex-abuse-trial-starts-proceedings-could-pull-back-curtain-on-la-luz-del-mundo-church