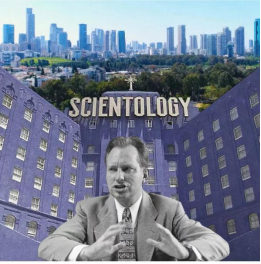 D. was looking for ways to improve her adolescent son's confidence, so she did a Google search and found a course offering a method called "life empowerment."
The many online ads featured a charismatic young man named Don Shaul, the owner of a company called Clearing Center who promised that his method offered "a way to develop confidence and communication skills, a method that isn't just nonsense."
The website of the Israeli Center for Victims of Cults describes Scientology as the biggest cult operating in Israel
Just before registering, D. did an online search on the company and the person behind it. She quickly learned that Shaul had links to Scientology, a fact absent in the promotional material, including in the enticing YouTube videos. D. decided not to register.
Yoav (not his real name) encountered a paid-for post on Facebook that led him to Clearing Center's Tel Aviv office; he would get a chance to "free himself from traumas." He took five months of courses and meetings – and left.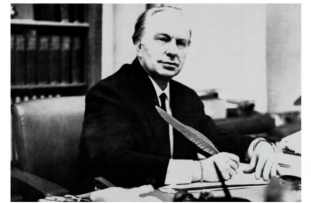 L. Ron Hubbard, who founded Scientology in the United States in the early 1950s.Credit: AP
"You sit in front of a therapist who asks you to describe over and over the trauma you want to get rid of. I'm not a psychologist, but I think repeating the description of the trauma is painful and dangerous, and it certainly didn't help me," he says.
"Once, they asked me to hold two cans and look at an electric meter that was supposed to respond whenever I thought about the trauma. It didn't. It became clear to me that the whole thing wasn't serious, but each of the two courses I took cost me 700 shekels [$208]. They didn't help much either."
Yoav was also irked by the coronavirus denial, including Shaul's claims that the Health Ministry was behaving like Nazi Germany. He compared the Green Pass to the yellow badge that Jews had to wear.
I met people like me there, depressed and lacking confidence, naive people who thought they were attending a cool seminar
Rena, who took a course at the Dror Center
Yoav also says the center was unambiguously opposed to psychology and psychiatry, and to the taking of any pills. "They told me that if I was getting treatment anywhere else, I couldn't be there," he says.
"I had to do a Google search to find the connection to Scientology. Then I realized why the center had books by Ron Hubbard, the founder of Scientology. A lot of people come to this center, including kids who take courses there. I won't be going back."
The website of the Israeli Center for Victims of Cults describes Scientology as the biggest cult operating in Israel. The organization, established in 1954 by science fiction writer L. Ron Hubbard, has hundreds of centers in dozens of countries, as well as subunits presenting themselves as consulting companies and rights groups. The movement in Israel has two branches: Scientologists and defectors who still employ Hubbard's methods.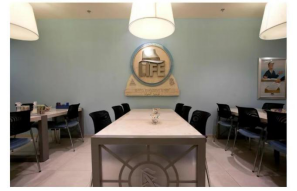 A classroom inside the Scientology's headquarters in Israel, in Jaffa, southern Tel Aviv.Credit: Yael Engelhart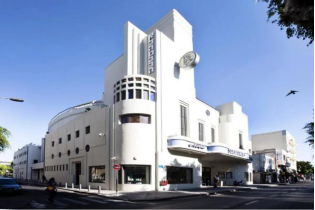 The Alhambra Cinema building in Jaffa, Scientology's home in Israel.Credit: Yael Engelhart
As in other countries, Scientology is considered a controversial movement in Israel. The website of the Israeli Center for Victims of Cults calls Scientology "a well-connected cult. It's hard to follow its financial trail. Its funds are kept at private companies and nonprofit organizations that are linked to each other. Scientology has many opponents due to its methods for keeping its adherents and the high financial costs it demands of its followers. Every stage of progress at this organization entails payment."
The center for cult victims says the movement tries to gain access to schools using different names and thus breaching the Education Ministry's rules.
Rena (not her real name) was suffering from severe depression when she saw a paid ad on Facebook that she says promised to rid her of all her traumas. So she went to the Dror Center in Haifa, which uses the "life empowerment" method.
The Dror Center in Haifa is managed by Dani Lemberger; he and his wife Tami were among the first Scientologists in Israel
"I met people like me there, depressed and lacking confidence, naive people who thought they were attending a cool seminar, or a course on self-development, and actually found themselves in Scientology," she says. "I think that place is dangerous."
Rena stayed at the center both as a student and a supervisor of students, who were taking courses mainly through books, pamphlets and a list of tasks they had to fulfill. "You very quickly hear [from instructors, monitors and the owners] about people who are oppressors, all of them outside the center," Rena says.
"They isolate you emotionally from family and friends, and very gradually and cleverly usher you into their organization. They simply brainwash you. Worse than that, the intervention in people's lives is simply awful. They know everything about you because you sit there facing a therapist, telling him or her the most intimate details of your life.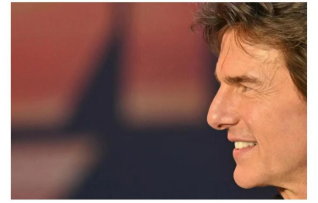 U.S. actor and senior Scientologist Tom Cruise attends the premiere of "Top Gun: Maverick" in London, in May.Credit: JUSTIN TALLIS - AFP
"No one knows how that information is protected. It's also unclear what training those therapists have, the ones touching your most painful wounds. They're against drugs, medicine, psychology and psychiatry. The main supervisor brainwashed one of the female students whose partner was allegedly oppressive and dangerous because he took pills."
Rena adds that the Dror Center distinguishes between two types of people. The first have means; they're encouraged to buy more and more courses, starting with an introductory course for 700 shekels ($210) and on to a communications course at 3,400 shekels. Then there are those with fewer means, who become instructors or monitors supervising other students, in effect becoming part of the center.
"I went there for months, spending many hours there every day. They paid me 1,000 shekels a month and told me I was part of the team. I realized that I was volunteering. I left only after a new girl arrived; she wondered how I couldn't see that I was in a cult.
"She opened my eyes. The term Scientology never comes up in these courses, even though there are books by Hubbard in all the rooms. If people ask, [the center's staff members] say they've left the cult and removed the toxic elements from their material."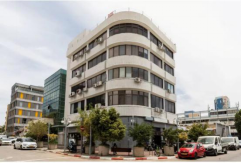 The building where Clearing Center operates in Tel Aviv.Credit: Eyal Toueg
'Human spirituality at the center'
The links between Rena's and Yoav's stories, and between the centers in Tel Aviv and Haifa, become clearer when you understand who the key players are. The Dror Center in Haifa is managed by Dani Lemberger; he and his wife Tami were among the first Scientologists in Israel. The Clearing Center in Tel Aviv is managed by Shaul.
Lemberger and Shaul left Hubbard's movement full of resentment; Shaul calls Scientology a "detestable cult" that separated him from his family and didn't accept his sexual orientation. Their departure involved a legal dispute with the movement.
One might have assumed that someone leaving Scientology with such anger would have taken a different path, but Shaul and Lemberger have never abandoned the movement's principles or methods, as they understand them. In their minds, they're the true Scientologists; Shaul says he uses "the original Hubbard philosophy."
Lemberger says that "Hubbard placed human spirituality at the center of things. After we left the church, we continued to work independently, basing ourselves on his philosophy according to our understanding and without any external intervention."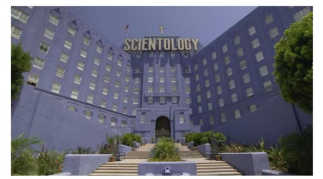 The movement's building in Los Angeles. Credit: HBO
Lemberger says he has published seven books in recent years to make Hubbard's work more accessible.
"I believe psychiatry can cause damage. ... We're strictly against using drugs, weed, alcohol or any chemicals for improving mood," Lemberger says. "If you think otherwise, that's fine, but don't come to us for spiritual treatment."
When asked about his therapists, he says they have no recognized training in mental health; their training derives from the knowledge Hubbard brought to the world. "You say 'recognized training.' Excuse me, that's nonsense," Lemberger says.
"Who is recognizing whom? Who is authorized to dictate to somebody what to believe in and how to improve their spiritual condition? Our technique, taken from Hubbard, involves a process that includes a verbal repetition of the trauma the person has experienced while facing a therapist. What's the problem with that?"
Lemberger denies using terms such as "a toxic person" or "an oppressive person," commonly used in Scientology, but Rena says these phrases are constantly used at the Haifa center.
Shaul uses the same terms. "The training of the coaches at my center is based on Hubbard's philosophy. We don't pretend to be psychologists or psychiatrists," he says.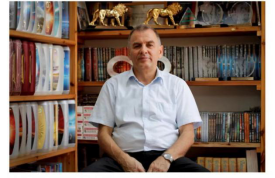 Dani Lemberger, who runs the Dror Center in Haifa. "Hubbard placed human spirituality at the center of things."Credit: Hagai Frid
"We sometimes use cans connected to a meter while we're talking about past experiences in order to measure electrical signals from the body. I believe that psychiatry can harm people, as many people can attest to."
Shaul says he doesn't hide the connection to Scientology. "On websites, videos, social media and at my center we openly and proudly present our use of Hubbard's philosophy," he says. "Not only do I not hide it, I'm proud of it."
As for alleged COVID denial, Shaul says he doesn't believe in "forcing vaccines or the Green Pass" on people – no person or government institution has that right. But "that's what the state tried to do. So, to describe this terrible situation, I used extreme expressions such as comparing the Green Pass to the yellow star."
College days
The Israeli college that trains teachers in the principles of Scientology, the New Education College, offers parents and teachers a tempting proposal. "Within 10 weeks we'll turn you into a coach for improving attention, concentration and learning skills," the school says on its website. "Join our all-star team and discover the secrets that have helped over 5,300 children in Israel succeed."
The short course, which costs 6,000 shekels, allegedly teaches how to treat attention deficit hyperactivity disorder without medication and how to teach children to learn by themselves.
The college, located in Rishon Letzion southeast of Tel Aviv, teaches based on Hubbard's book "Learning How to Learn" and the life empowerment system. The college's owner is Gadi Ben Lavi, a veteran Scientologist and formerly the CEO of Magen and Tvuna, Scientology organizations that a decade or two ago tried to get the movement's principles taught at the schools and other institutions such as the prison service.
The New Education College in Israel is a private company, not an official academic institution; it doesn't receive outside supervision but still grants diplomas not recognized by any regulator. Instead of stressing Scientology, its website says the school "trains parents and educators in an innovative system of learning and teaching, improving social skills and the right approach to children."
Dozens of teachers, both Jewish and Arab, attend the classes – as can be seen in the recommendations on the website and on the college's Facebook page.
R., a teacher whose recommendation appears on the site, says she didn't really know that this was Scientology but was enthusiastic about a course she took and now plans to use the principles she learned at the college.
"I believe in this path," she says. "As a person inside the system who has experienced it, I believe that children don't need to take pills. I simply don't believe that a child with attention and concentration problems has a disorder that a pill can solve."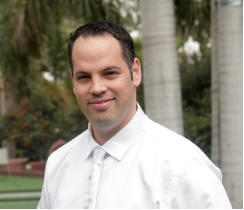 Elad Hadar.Credit: Alon Malka
When asked if it's known at her school that she studied at the New Education College, R. said: "Yes, I believe in the path."
What path?
"That it's possible to treat these matters without pills."
Do you intend to bring Scientology's principles into the Israeli educational system?
"I'm going to, with God's help, bring into the Israeli school system the right skills to treat children with ADHD."
Using Scientology.
"Using the skills."
When she realized that her name was about to be linked to Scientology, R. retreated, adding: "I still haven't introduced it. If they introduce it into the school system, I'll be the first there."
Immediately after speaking with R., I received an angry phone call from Ben Lavi. If I spoke with "his students" he would go to the police. He also threatened a libel lawsuit; he said it was true he was a Scientologist, but there was no reason to bring up the issue at the college, just as a Jew doesn't say he's a Jew.
Still, Ben Lavi admits that in the first stage of a study track called "The Secret to Success in Learning and Teaching," the students receive two of Hubbard's books, "Learning How to Learn" and "The Fundamentals of Thought." The other stages aren't related to Scientology, he says.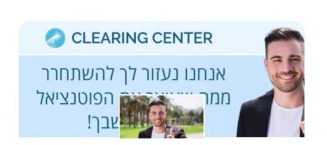 An ad featuring Don Shaul, the owner of the company Clearing Center. He calls Scientology a "detestable cult" and says he follows Hubbard's true principles.Credit: Screenshot from Clearing Center's website
A., a veteran remedial teacher, now teaches privately. She recently took a coaching course via Zoom at the New Education College, and says she didn't know that Ben Lavi was a Scientologist and never heard the term Scientology during the course. She heard the name Hubbard but says she didn't know he was the founder of Scientology.
A. says she doesn't know if she would have signed up for the course if she knew about the link with the movement. "Even when I study at Bar-Ilan University, I don't ask the professor what the sources are," she says.
For his part, Ben Lavi says: "The college isn't part of the Church of Scientology or any other religious organization, and only teaches the content from secular research in the field of learning carried out by Hubbard, who was also the founder of Scientology. Any attempt to present a different picture is a misrepresentation and a deception of the public."
The Education Ministry, however, says the "cult of Scientology" is forbidden in Israel's classrooms. "In addition, the institution isn't recognized by us and we don't recognize these studies."
In the service
 of business
For years the business sector has been fertile ground for Scientology. The consulting company Success, run by Elad Hadar, has offered a raft of services for nearly 20 years, such as business consulting, financial advising, organizational and marketing consulting, and business coaching for executives.
On its website, Success says that it "operates under the auspices of and with a license from the largest consulting company in the world, Wise, and among its customers are giant corporations." The term Scientology is never mentioned.
Don Shaul: "The training of the coaches at my center is based on Hubbard's philosophy. We don't pretend to be psychologists or psychiatrists."
According to the site, Hadar is "one of the first graduates of the Hubbard College of Administration – the business consulting track," but otherwise he appears to lack recognized training in consulting or business. The site adds: "Mr. Hubbard's management technology is the result of comprehensive research representing the largest unified administrative statement written by a single author."
Hadar refused to say whether he was a Scientologist. "The content has no connection to religion, because it's an organizational system," he said, declining further comment.
In November, 11 customers filed a lawsuit against Hadar and Success. They're seeking a 550,000-shekel refund, saying the services they received produced none of the results promised. The suit says Scientology was taught without the customers knowing.
For example, the business consultant for Plaintiff 1 says that to find the right courses, "she had to undergo a comprehensive personality test that included many personal questions."
According to the suit, in courses at Success, "she met the person in charge of studies, who later was found to belong to Scientology, and from that moment she didn't stop trying to recruit the plaintiff for the Church of Scientology, using a long list of platforms and means."
Plaintiff 4 says he received a personality questionnaire to be filled out, and also received emails containing links to Scientology websites.
When Plaintiff 5 took the personality test, he asked if the test was linked with Scientology, and the college's head at the time told him there were similarities. He asked why he hadn't been told this, and the college's head said: "Why does it matter to you?"
The first hearing in the lawsuit is due at the end of the month.
https://www.haaretz.com/israel-news/2022-05-29/ty-article-magazine/.premium/scientology-makes-strides-in-israel-in-deed-if-not-in-name/00000181-0050-d215-a5e9-6d5761690000