Shinzo Abe's assassination has shone a light on the work of the controversial Unification Church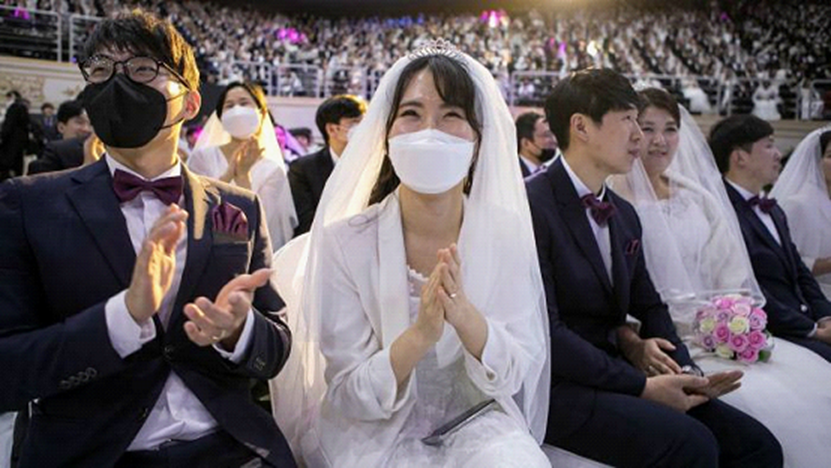 Thousands of couples at a mass wedding held by the Unification Church in South Korea in 2020 © Woohae Cho/Getty Images
In March 1993, Japanese former Olympic gymnast Hiroko Yamasaki disappeared seven months after taking part in a mass wedding ceremony organised by the Reverend Moon Sun-myung's Unification Church in Seoul.
After an extensive police search, she suddenly re-emerged from hiding 46 days later to describe her experience at the hands of the church whose followers are commonly known as Moonies.
"Everything was a mistake," Yamasaki told reporters at a press conference. "I was placed in a world of delusion where people's minds were being controlled. So I still cannot figure out to what extent the affection I felt towards [my husband] was real."
Thirty years after Yamasaki's arranged marriage, attention has again turned to the "world of delusion" allegedly inhabited by the Korean church's followers.
Tetsuya Yamagami, the man suspected of killing Japan's former prime minister Shinzo Abe last week, is reported to have been seeking revenge against the church. His mother, who regularly attended church events, allegedly made ruinously large donations.
Not a member of the church himself, Abe praised the church's activities during a speech in September. His grandfather, former prime minister Nobusuke Kishi, is reputed to have helped the fiercely anti-communist church establish its foothold in Japan.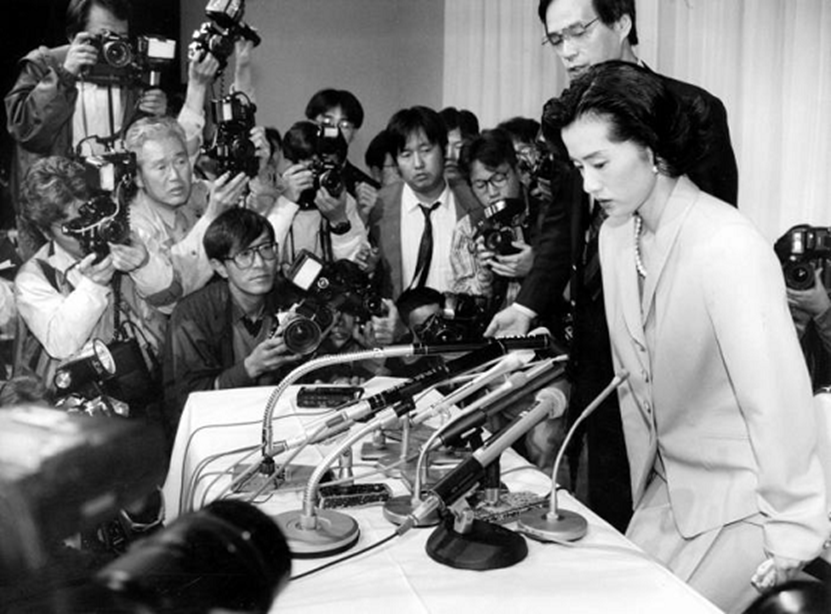 Hiroko Yamasaki told reporters in Tokyo in 1993: 'Everything was a mistake' © The Asahi Shimbun/Getty Images
The alleged connection to the Abe assassination is the latest controversy for a church that has built a sprawling multibillion-dollar business empire with interests ranging from a Brazilian football club to a Californian chinchilla ranch.
For followers and sympathisers, the church remains misunderstood and unfairly maligned. But to critics, it is a cult that has used its spiritual hold over followers to enrich the religion's founding family.
"It is a business based on religion," said Tak Ji-il, a professor at Busan Presbyterian University. "On the surface, they are fighting over religious principles but they are actually fighting over money."
Moon, an excommunicated Presbyterian minister born in what is now North Korea, founded the Unification Church in the South Korean city of Busan in 1954. He argued that Adam and Eve's fornication had led to the prevalence of "selfish love" throughout the world. Jesus had been sent to restore God's love to the world, but died before he had the chance to marry.
As Jesus's self-anointed successor, Moon described his mission as to marry, raise the "ideal family", and encourage his followers — whom he personally paired off ahead of the mass weddings that made his movement famous — to do the same so as to "create one world under the sky".
The spiritual intensity and political idealism of Moon's message, which focused on overcoming racial, religious and national differences, resonated particularly strongly with young people in Japan and the west.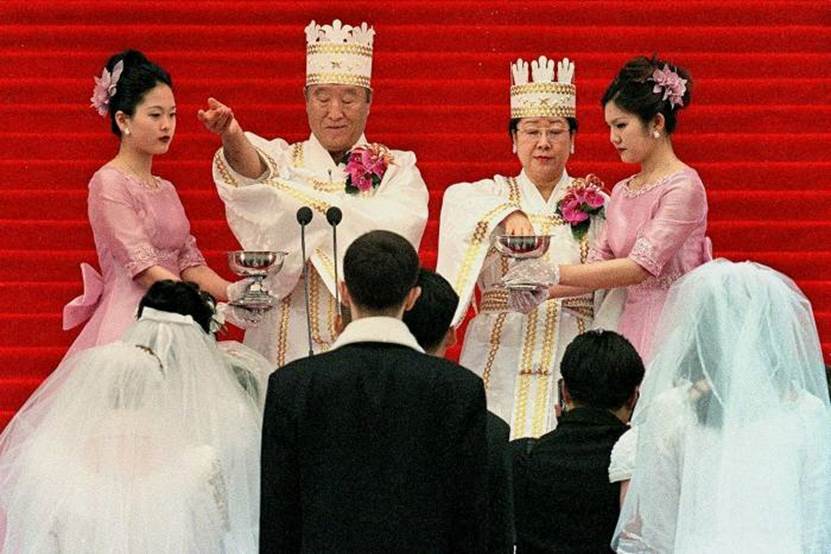 Moon Sun-myung and his wife bless brides and grooms at a mass wedding ceremony at Jamsil Olympic stadium in Seoul in 2000 © Park Mee-Hyand/AFP/Getty Images
"Ideologically, it was a sort of religious version of communism — we're all one family of mankind, and the idea is to build a unified world," said Michael Breen, a British public relations consultant who was a member of the church between 1978 and 1982. "You felt you were part of something very noble and very wholesome."
But critics accuse church leaders of exploiting members' labour and capital — including billions of dollars transferred from Japan to the US — to build and seed its business empire.
Affiliates of Tongil Group, a South Korean conglomerate founded by Moon in 1963, include ski, ocean and golf resorts, a construction group, a defence company, a chemicals group, an auto parts business and a newspaper. In the 2000s, the church entered into a joint car production venture with the North Korean government.
The church's US business interests include the conservative Washington Times newspaper, the New Yorker hotel in New York, the True World Foods seafood wholesaler and a vast real estate portfolio.
In Japan, described by experts as the principal source of the church's global wealth, the church has long been dogged by allegations of forcibly extracting donations — an issue at the heart of Yamagami's alleged grievances against the Moonies.
For decades, Japanese followers have engaged in the practice of selling "spiritual goods" such as expensive ginseng tea or miniature stone pagodas produced by church-affiliated enterprises in Korea.
At a press conference this week, the president of the Japanese branch of the church acknowledged that it had forcibly extracted donations in the past, but claimed that the practice had long since ended.
But lawyers for former church members in Japan point to a 2020 Tokyo court decision that ordered the church to repay about $34,000 to a member on the grounds that "the demand for donations was made through an unfair method of stirring up anxiety and fear".
"I did all kinds of part-time jobs to donate more money to the church to fulfil a quota for each member for anniversaries and church events," said Lee Young-sun, a Korean former member who runs an organisation assisting victims of the church.
"Otherwise, you would be isolated within the organisation and couldn't endure the pressure. They claimed to build a paradise on earth but in reality it was like living in hell."
Since Moon's death in 2012, his widow has been battling against her sons for leadership of the church and control of its businesses.
One son attempted to seize control of the church's US holding company before his mother wrestled it back from him after a decade-long court battle.
Another has established his own breakaway church in Pennsylvania. Known as the "Rod of Iron Ministries", it encourages followers wearing crowns of bullets to tout semi-automatic weapons during its ceremonies.
Breen said that the divisions within the family were potentially fatal for the movement. But while acknowledging the church's many scandals, he rejected its common characterisation as a "cult".
"All religions begin as cults — people have always feared these groups because by definition they are radical," said Breen, who is writing his second biography of Moon and remains sympathetic to the movement.
"But in my experience, the Moonies are very nice people — and you can leave any time you want."
Original Website: https://www.ft.com/content/2bf8dd43-78ca-4d2f-935e-70c9d34e1a5d