According to a report released on the website of Bishkek Evening News, president of the State Committee on Religious Affairs in Kyrgyzstan announced at a press conference on March 5 that a total of 15 exotic heretical cults including Falun Gong had been operating on Kyrgyz territory and that Falun Gong was outlawed by local government.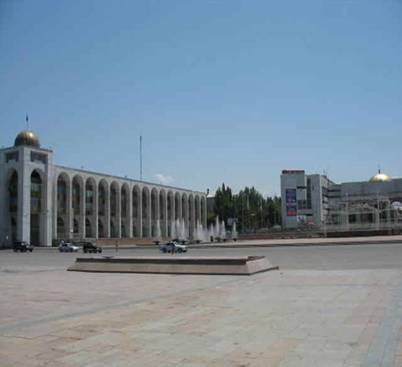 The Parliament Building in Kyrgyzstan
According to the president, "Falun Gong had been trying to get registered during the four years prior to 2006 by claiming that it was not a religious organization. They eventually got registered and obtained the status as a legal person from the Ministry of Justice by a certain unknown means. Our experts have learned that Falun Gong was a Chinese religious sect. The experts have come to the conclusion through verification and lodged a lawsuit against the cult. Falun Gong was outlawed in 2007. "
Meanwhile, the government in Kyrgyzstan outlawed heretical cults including the Unification Church and Jaishul Mahdi. According to the information released by the State Committee on Religious Affairs, the Unification Church disguised itself as a social fund organization. Experts have carried out researches into this cult for a long time. Last year, the State Committee on Religious Affairs lodged a lawsuit against the cult with the help of the Prosecutor General's Office. The Church was then outlawed by court rule. Then the Church appealed to a higher court, but finally lost the suit. The Jaishul Mahdi, a destructive Islamic religious movement, was outlawed and barred from operating on Kyrgyz territory last year.
Bishkek Evening News is one of the key mass media in Kyrgyzstan and has considerable influence in Kyrgyzstan and the Central Asia.