I was told on the phone by my elder male cousin that my aunt had lately died because of Falun Gong. My aunt was a simple and honest farmer from the rural area of Northern Anhui. She was only 64 years old when she was killed by the Falun Gong evil cult.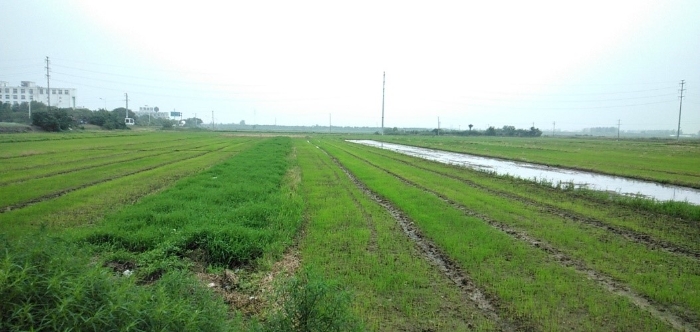 The place where my aunt used to live
My aunt Yang Shixia was born in a small village by the Huaihe River in Panji District, Huainan City. Married to a man from the same village, she spent all her life working in the fields by the Huaihe River. She was a farmer through and through. Back in the 1990s, my aunt and her husband built a two-story house in the village through their hard-working hands. Later, her two children were admitted to university because of their hard work and good grades. After graduation, they both lived and worked in cities, and my aunt and her husband lived an ordinary and smooth life in their hometown.
In 2018, my aunt was suddenly diagnosed with cerebral infarction and coronary heart disease. At that, two women from the same village went to her home frequently, saying that they would practice Gong together with my aunt to cure the disease. From then on, my aunt had changed into a different person.
It wasn't until later did we learn that my kind-hearted aunt had believed in Falun Gong, an evil cult that deceived and harmed people in the disguise of religion. My aunt had been was convinced by her fellow villagers that Falun Gong could improve one's health, cure one's illnesses without injections or medication, teach one to be a good person, and benefit one's whole family and bless them with safeness. Gradually, my aunt became a faithful follower of Falun Gong. She worshipped Li Hongzhi as a God and did everything as "Master" Li required. Indulging herself in practicing Gong, she became more and more eccentric in personality.
In summer last year, my aunt suddenly fainted at home. Fortunately, she was sent to the hospital in time and rescued by doctors. After a period of treatment, her condition was brought under control. However, after being discharged from the hospital, she persisted in practicing Falun Gong, thinking that she was still not "advanced" enough to ascend to a higher level. Her family members were in great anxiety about her, whose mind had been firmly controlled by the heresies of Falun Gong.
As a result of her long-term illness, irregular life, coupled with no medication or treatment, my aunt's condition worsened quickly, often causing her to feel dizzy and breathless. However, she refused to follow my uncle's advice, resolutely refusing to take medicine or go to the hospital for treatment. She fully believed in his sacred Falun Dafa, repeatedly saying "Falun Dafa is good" each day. Nevertheless, her disease hadn't disappeared as she wished. In early June this year, my aunt suddenly fainted at home, and her heartbeat stopped on the way to the hospital. She was 64 years old when she died.
It was a pity that my aunt lost her life at an age when she was supposed to be enjoying her family life. Her death was caused by Falun Gong. It was the evil cult that had deceived her into obsession with Falun Gong heresies and finally brought about the tragedy.